2N2904 Transistor Pinout, Applications, Equivalents, Features and Other Useful Details
2N2904 is a metal case transistor available in TO-39 package. It is a PNP transistor designed to use in switching, amplification, VHF and other general purpose applications. This post is focused on 2N2904 transistor pinout, applications, equivalents, features and other useful details about this transistor.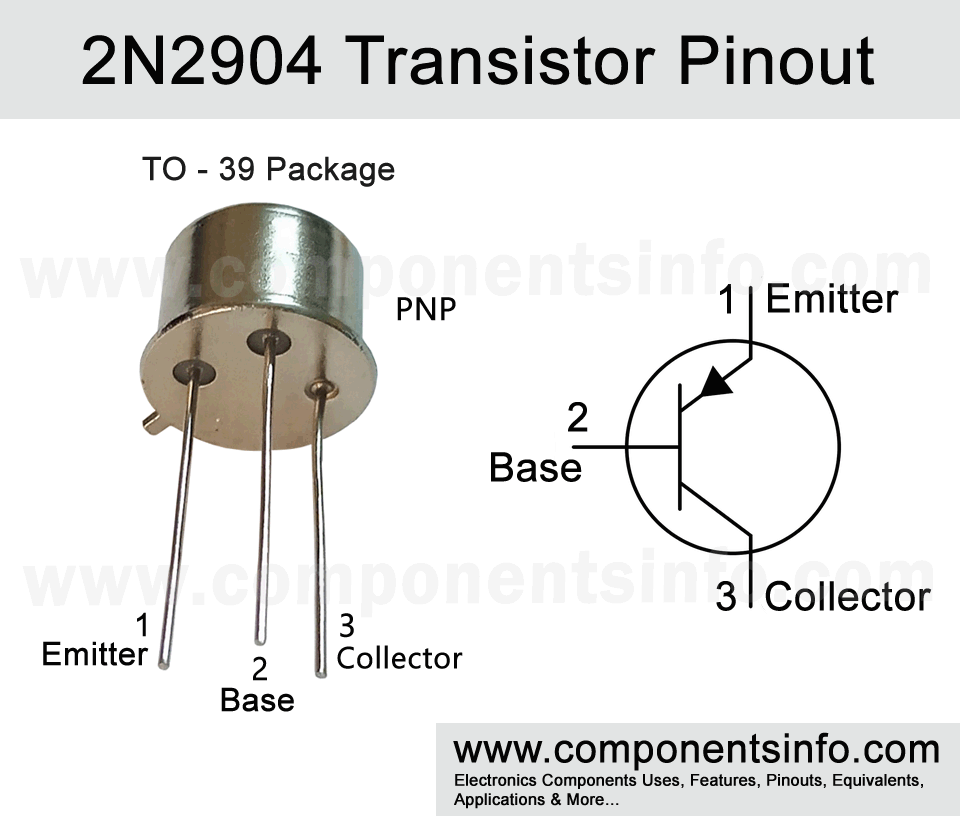 Features / Technical Specifications
Package Type: TO-38
Transistor Type: PNP
Max Collector Current(IC): -8A or -800mA
Max Collector-Emitter Voltage (VCE): -40V
Max Collector-Base Voltage (VCB): -60V
Max Emitter-Base Voltage (VEBO): -5V
Max Collector Dissipation (Pc): 8 Watt Or 800mW
Max Transition Frequency (fT): 200 MHz
Minimum & Maximum DC Current Gain (hFE): 20 – 120
Max Storage & Operating temperature Should Be: -65 to +200
NPN Complementary:
NPN Complementary of 2N2904 is 2N2218
Replacement and Equivalent
2N2904, 2N5151, 2N5153, BSS61, BSS62
2N2904 Transistor Explained / Description
2N2904 is a PNP transistor of 2N290X series in which there are also other transistors such as 2N2905, 2N2906 and 2N2907, it is mostly available in TO-39 transistor package but one or two manufacturers also make it in TO-18 package. The transistor is mainly designed to use in amplification of DC signals of low hertz to very high frequency signals or VHF band upto 200MHz.
2N2904 transistor can also be used for switching and capable to do fast switching due to which it can be an ideal transistor to be used where high speed switching is required with the maximum load -600mA.
Moreover, it can also be used in complementary circuits. These circuits use pair of NPN and PNP transistors for different applications in electronics.
Looking at the absolute maximum ratings of the transistor the maximum collector current of the transistor is -600mA, max collector to emitter voltage is -40V, max collector to base voltage is -60V, max emitter base voltage is -5V, transition frequency is 200MHz, DC current gain is 20 to 120 and maximum collector dissipation is 0.8W.
Where We Can Use it & How to Use
2N2904 is designed to use in variety of applications few of them as we have already mentioned above are DC amplification to very high frequency amplification, switching, and complimentary circuits. But it is not limited to these applications and can as a general purpose transistor it can be used in hundreds of possible applications. The detailed list of its applications can be found under the applications heading below. Moreover it a BJT transistor so the using procedure is same as you can use any other BJT transistor.
Applications
Radio & RF Applications
Signal Amplifier
Audio Amplifier
Darlington Pairs
Complimentary Circuits in Audio and Other Applications
Many Types of General Purpose Applications
Switching Loads under 800mA
Safe Operating Guidelines
It is also important to always check the absolute maximum ratings (Maximum Limits) before using any transistor in your design or circuit and make sure that your design or circuit is not using / operating the transistor to its maximum limits, using any transistor on its maximum limits can damage the transistor or weak its performance. So it is recommended to at least use a transistor 20% below from its maxi ratings. Hence same applies to the 2N2904 transistors, the maximum collector to emitter voltage is -40V so do not drive load of more than -32V, max collector current is -800mA therefore do not drive load of more than -640mA, always use a proper heatsink with the transistor and store or operate the transistor in temperature above -65 degree centigrade and below +200 degree centigrade.
Datasheet
To Download the datasheet just copy and paste the below link in your browser.
https://z3d9b7u8.stackpathcdn.com/pdf-down/2/N/2/2N2907A_Motorola.pdf