1N914 Diode Pinout, Features, Equivalents, Specs, Description, Uses and Other Useful Info
1N914 is a DO-35 package diode designed for high speed switching applications. The article below contains 1N914 diode pinout, features, equivalents, specs, description, uses and other useful information.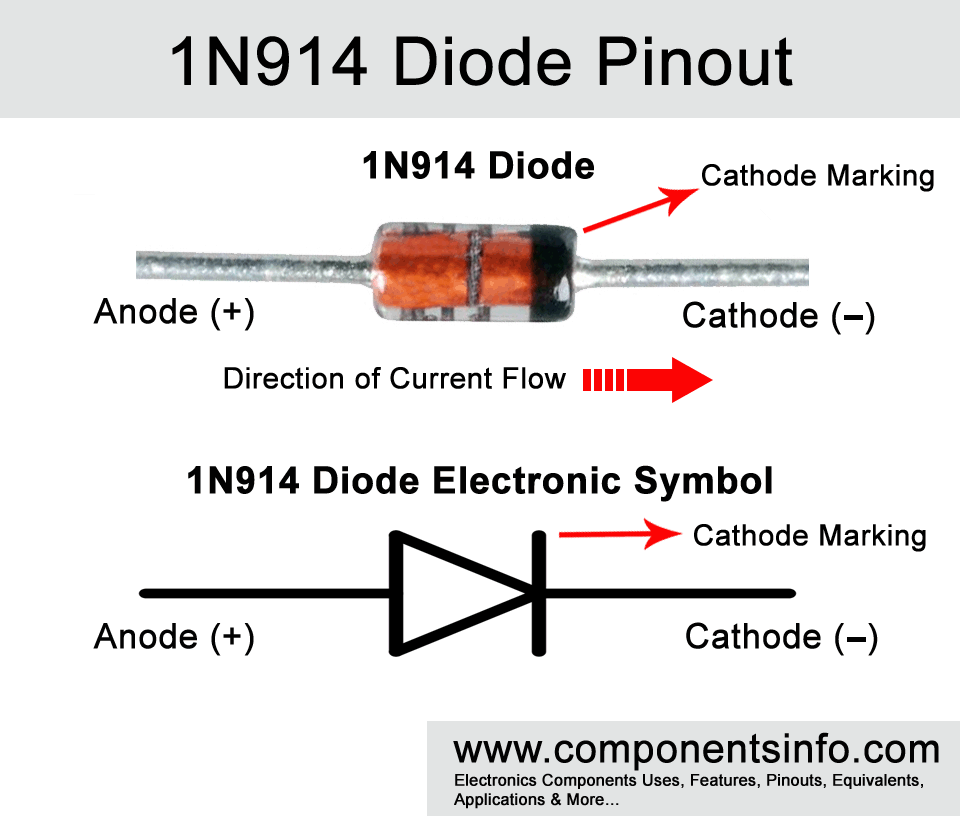 Features / Technical Specifications
Package Type: Available in DO-35 Glass and SMD Packages
Didoe Type: Silicon Epitaxial Fast Switching Diode
Max Repetitive Reverse Voltage (VRRM) is: 100 Volts
Max Average Rectified Forward Current (IFAV) is: 200mA
Max Non Repetitive Forward Current (IFSM) is: 1A
Max Power Dissipation (PD) is: 0.5W Or 500mW
Max Storage & Operating temperature Should Be: -65 to +200 Degree Centigrade
1N914 Replacement and Equivalent
1N4148, 14448, 1N4150, 1N4151, 1N4448WS, 1N916A
1N914 Diode Explained / Description
1N914 is a DO-35 or SOD27 glass case or package. The diode is designed for high speed switching applications but not limited to only switching and it can be used in wide variety of general purpose applications. Moreover it is can also be used in the place of famous 1N4148 diode do it can work in most of the applications where 1N4148 diode is used.
Looking at the absolute maximum ratings of the diode the max repetitive reverse voltage is 100V which means it can drive load of upto 100V. The maximum load current it can drive or the max non repetitive peak forward current is 1A. The thermal characteristics of the diode are also quite acceptable the max power dissipation is 500mW.
The diode also has very good features such as it has fast switching speed due to which it can be used in high speed applications. It has high conductance and it is also highly reliable to use in commercial and industrial applications.
One Important thing should be kept in mind that all the absolute maximum ratings of components are mentioned to show the max specs that component can handle it doesn't mean that we can continuously operate that component on these ratings, using continuously on absolute maximum ratings can make a component weak or can also damage it. Therefore it is recommended to use a component atleast 20% below from its maximum ratings.
Where We Can Use It
1N914 diode can be used in variety of general applications such as for rectification, voltage blocking to protect reverse voltage to protect electronic devices and components, digital logic circuits and various other general purpose applications.
Applications
General switching
High speed switching applications
Rectification
Components reverse voltage spikes protection
Reverse voltage protection
Blocking incoming voltage where not required
Signal filtering
Safe Operating Guidelines
To get long term performance it is recommended to use a component safely which includes not using it on its absolute maximum ratings, do not drive load of more than 800mA, the load voltage should be under 80V, check polarity before using in the circuit (Check the anode and cathode pins) and always store or operate the diode in temperatures above -65 degree centigrade and below +200 degree centigrade.
1N914 Datasheet :
To download the datasheet just copy and paste the below link in your browser.
https://z3d9b7u8.stackpathcdn.com/pdf-down/1/N/9/1N914B_Diodes.pdf