1N4148 Diode Pinout, Equivalent, Specifications, Datasheet & Details
This article describes the 1N4148 diode pinout, equivalent, specifications, datasheet, description, application and more details.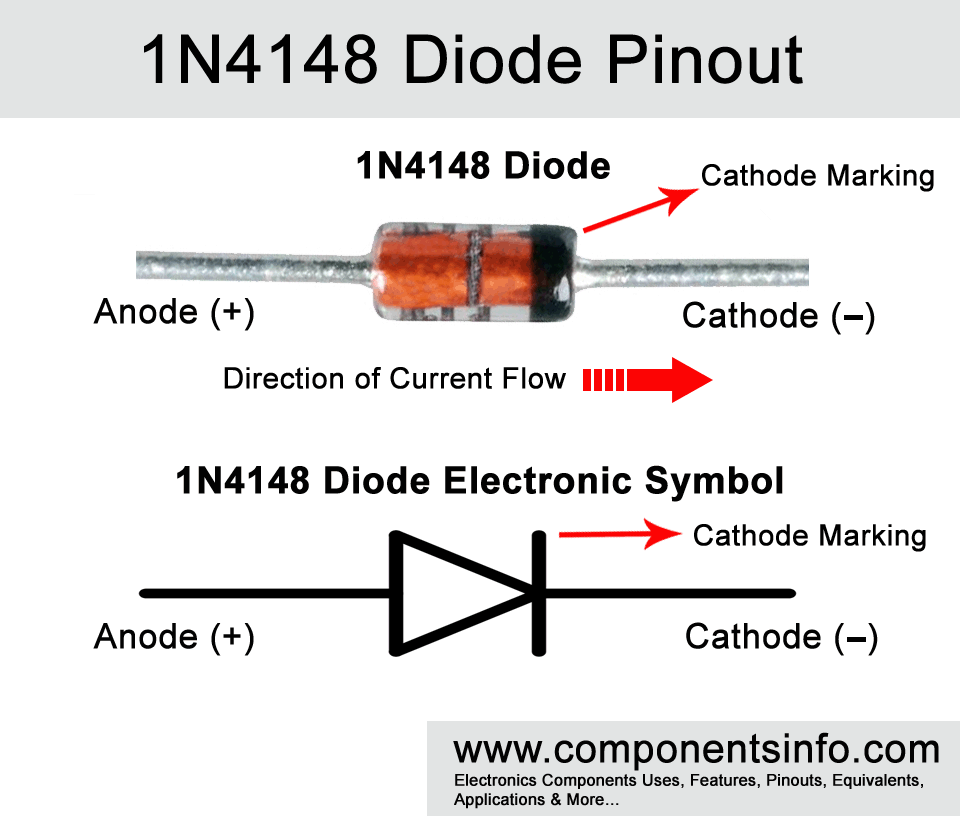 Features / technical specifications
Package Type: Available in DO-35 Glass and SMD Packages
Didoe Type: Silicon Epitaxial Fast Switching Diode
Max Repetitive Reverse Voltage is: 100 Volts
Max Average Rectified Current is: 15A or 150mA
Max Power Dissipation is: 5W
Reverse Voltage is: 75V
Max Storage & Operating temperature Should Be: -65 to +175 Centigrade
1N4148 Replacement and Equivalent
14448, 1N4150, 1N4151, 1N4448WS, 1N914, 1N916A
1N4148 Diode Explained / Description
A diode is an electronic device that allows flowing current only in one direction, for example a one way road where traffic can go only in one way or direction. The 1N4148 diode also works as way, it is a most popular and famous silicon diode from many years and it is manufactured by several electronics components manufacturers. The main reasons of its mass uses in electronics are its interesting specifications and features in a small package and low cost. It is available in many different types of packages such as DO-35 glass and many other SMD packages, it is also a fast switching diode with a speed of 4 nanoseconds with 100V reverse and with max power dissipation of 0.5W.
Where We Can Use It
1N4148 can be used in variety of electronics applications it can be used to where you have requirement of making AC current to DC, it can be used to block voltage spikes to protect electronic components from burning inside or damage, it can also be used in digital logic circuits. Moreover it also work well in battery charger circuits, power supply circuits and voltage doubler circuits.
Applications
High speed switching
General switching
Rectification
Components protection
Blocking incoming voltage where not required
Signal filtering
How to Safely Long Run in a Circuit
To get long term performance with 1N4148 diode in your electronics projects it is recommended to always check the cathode mark on the diode and in the diagram to place it in right polarity in the electronic circuit. Do not provide more current and voltage as defined in the specification and always store and operate in temperature above -65 centigrade and below +175 centigrade.
1N4148 Datasheet
To Download the datasheet just copy and paste the below link in your browser.
http://pdf.datasheetcatalog.com/datasheet/fairchild/1N4148.pdf