13007 Pinout, Equivalent, Features, Applications
13007 or MJE13007 is a BJT transistor designed for high voltage and other applications. Today we are going to discuss about transistor 13007 pinout, equivalent, features, applications and other important information about this transistor.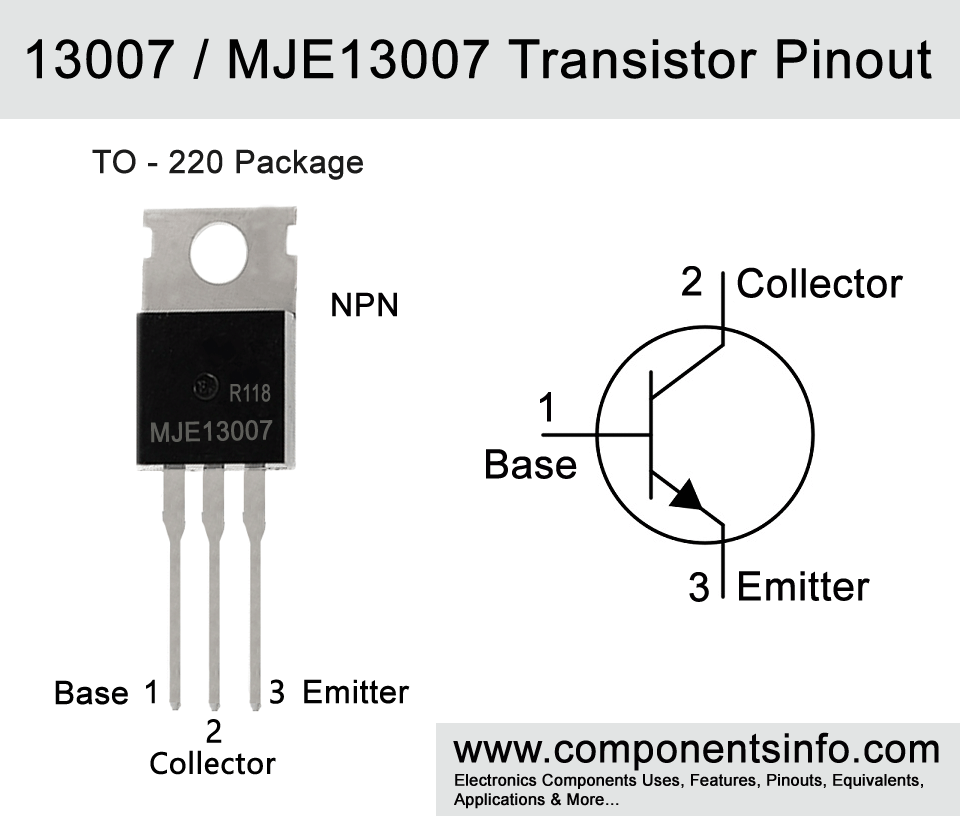 Features / Technical Specifications:
Package Type: TO-220
Transistor Type:  NPN
Max Collector Current(IC): 8A
Max Collector-Emitter Voltage (VCE): 400V
Max Collector-Base Voltage (VCB): 700V
Max Emitter-Base Voltage (VEBO): 9V
Max Collector Dissipation (Pc): 80 Watt
Max Transition Frequency (fT): 4 MHz
Minimum & Maximum DC Current Gain (hFE): 8– 60
Max Storage & Operating temperature Should Be: -65 to +150 Centigrade
13007 Replacement and Equivalent:
ST13007, BUJ105A, BUJ105AX, 2SC2335, 2SC2553, MJE13006, MJE15020, KSE13007, TE13007, KSE13006.
13007 Transistor Explained / Description:
The 13007 transistor or also called MJE13007 is a TO-220 package high voltage BJT transistor. This transistor is mainly designed for high voltage and high speed applications but it can also be used for amplification purposes.
The transistor is capable to drive a load of upto 400V with the max load current of upto 8A. Other than that this transistor can also be used as an amplifier. The maximum collection dissipation of 80 watt also makes it ideal to use in many audio amplifier applications.
Where We Can Use it & How to Use:
You can use MJE13007 transistor in many applications such as in high voltage related applications, inverters, power supplies, motor controllers, UPS, battery charging applications etc.
On the other hand this transistor can also be used as an audio amplifier in many audio amplifier applications such as in high power audio amplifiers.
Applications:
High Voltage Fast Switching Applications
Uninterrupted Power Supplies
Power Supplies
Inverter Circuits
Battery Charger and Management Applications
Motor Controllers
Audio Amplifier & Audio Amplifier Stages
How to Safely Long Run in a Circuit:
To get long term performance with MJE13007 it is suggested to always use it 20% below from its maximum ratings. The maximum collector current of the transistor is 8A therefore do not drive load of more than 6.4A. The max voltage this transistor can supply from its collector to emitter is 400V therefore do not drive load of more than 300V to 320V. It dissipates heat during operation therefore a suitable heatsink is must and always operate and store it in temperature above -65 centigrade and below +150 centigrade.
Datasheet:
To Download the datasheet just copy and paste the below link in your browser.
https://cdn.datasheetspdf.com/pdf-down/M/J/E/MJE13007_ONSemiconductor.pdf