RFP30N06LE MOSFET Pinout, Explanation, Equivalent, Features, Applications and More
Today we are going to talk about RFP30N06LE/P30N06LE N Channel MOSFET which has many good features and can be directly driven by integrated circuits, microcontrollers and electronic platforms like Arduino and Raspberry Pi. In this post you will find RFP30N06LE MOSFET pinout, explanation, equivalent, features, applications and much more useful information about transistor.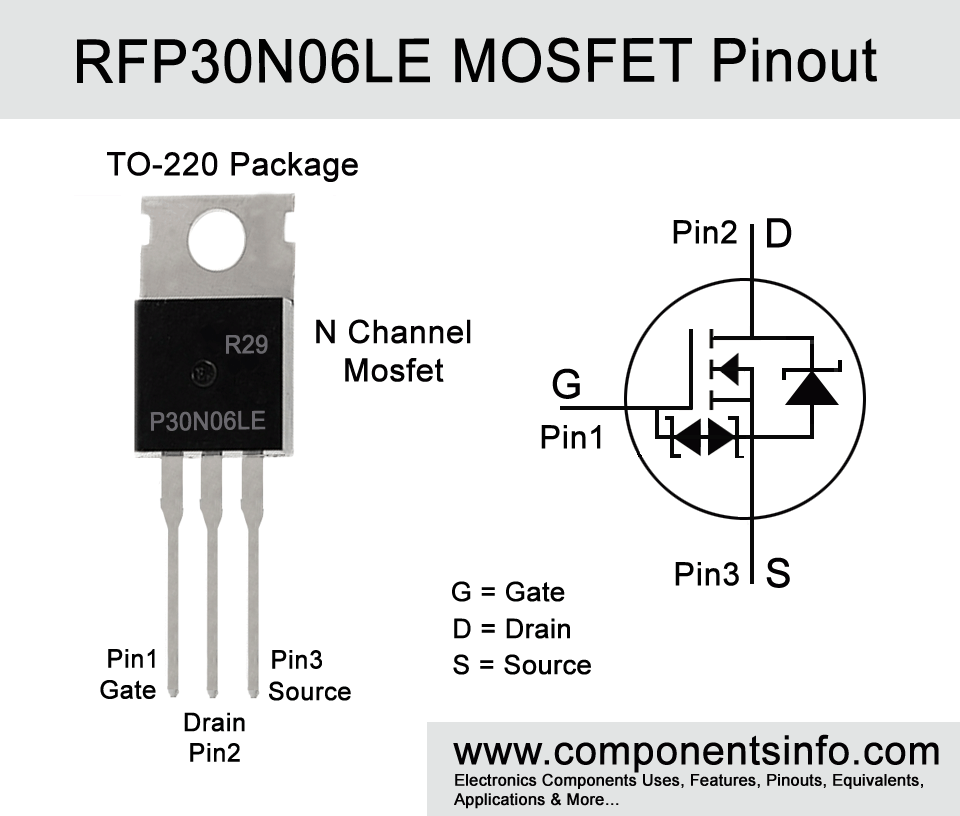 Features / Technical Specifications:
Package Type: TO-220AB, TO-263AB, TO-262AA
Transistor Type: N Channel
Max Voltage Applied From Drain to Source: 60V
Max Gate to Source Voltage Should Be: ±20V
Max Continues Drain Current is : 30A
Gate to Threshold Voltage is: Minimum 1V and Maximum 2V
Max Power Dissipation is: 96W
Max Drain to Source Resistance in ON State (RDS on): 0.047Ω
Max Storage & Operating temperature Should Be: -55 to +175 Centigrade
Replacement and Equivalent:
2SK1910, 2SK972, BUZ12AL, IRLSZ44, IRLZ34N, IRLZ40, RFP25N05L, STP36N05L, STP36N05L
RFP30N06LE MOSFET Explained / Description:
RFP30N06LE or P30N06LE is an N Channel power MOSFET available in TO-220AB, TO-263AB and TO-262AA packages. It can handle max load of 30A and max load voltage can be upto 60V.
It is a logic level MOSFET which means that it required very low gate voltage to become fully saturated or in fully activated condition. The transistor is manufactured with MegaFET technique which ensures outstanding performance.
The MOSFET is having many features such as:
Low RDS(ON):
The RDS(ON) or drain to source resistance in working condition of the transistor is only 0.047 Ohms due to which the transistor dissipate less heat during operations which also ensures low power wastage.
ESD Protection:
The transistor is capable to protect electrostatic discharge (ESD) of upto 2kV which ensures better performance and protection.
Low Gate Threshold Voltage:
The MOSFET has low gate threshold voltage which makes it ideal to use in low voltage and battery operated circuits and as mentioned above can be directly operated from the integrated circuits, microcontrollers and electronic platforms such as Arduino, Raspberry Pi etc.
High Storage and Operating Temperature
The transistor has storage and operating temperature of upto 175°C which ensures stable performance on high temperatures as compare to the MOSFETs that has 150°C max.
Other features are UIS Rating Curve, peak current vs pulse width curve, etc.
Looking at the specs of the transistor the maximum drain to source current or continuous drain current is 30A, max drain to source voltage is 60V, minimum to maximum gate to threshold voltage is from 1V to 2V and max power dissipation is 96 Watts.
Where and How to Use:
The MOSFET is mainly designed to use in motor controllers or drivers, DC to DC converters, relay drivers but it is not limited to these uses and can be used for variety of different purposes.
Before using the MOSFET it is better to know how much voltage it requires to fully become in on state and what minimum voltage you can provide to get desired drain current to drive your load. As mentioned above it is a logic level MOSFET so it is capable to deliver more amperes on low gate voltage unlike other MOSFET that required upto 10V to get fully ON. The Typical Performance Curves Graph of the MOSFET shows that it is capable to deliver output current of around 18A on 3V gate voltage and 30A on 4V to 4.5V gate voltage means it will become fully ON when you provide 4V to 4.5V to its gate. But if you want to drive it with low voltage then you can still get 18A of continuous drain current with only 3V of gate current so you can easily drive it with 3.3V circuits.
Applications:
Power Supplies
DC to DC Step Down Converter
Battery Management Systems Circuits
DC to DC step UP Converters
Portable and Battery Operated Applications
Automotive Applications
Solar Chargers & Power Supplies
Safe Operating Guidelines / Absolute Maximum Ratings:
To get long term performance with this MOSFET follow the guidelines below:
Do not use the MOSFET to its absolute maximum ratings and always use it 20% below from its absolute max ratings. Using the MOSFET on its absolute maximum ratings may damage it or decrease its performance.
The maximum continuous drain current of the transistor is 30A therefore do not drive load of more than 24A.
The maximum drain to source voltage is 60V therefore do not drive load of more than 48V.
Always use a suitable heatsink with the transistor.
The storage and operating temperature of the transistor should be between -55°C to +150 °C.
Datasheet:
To download the datasheet just copy and paste the below link into your browser.
https://cdn.datasheetspdf.com/pdf-down/R/F/P/RFP30N06LE_IntersilCorporation.pdf