TIP35C Transistor Pinout, Equivalents, Uses, Technical Specs, Explanation and Other Details
TIP35C is a general purpose high power transistor available in TO-218 package. This post describes TIP35C transistor pinout, equivalents, uses, technical specs, explanation and other useful info about this device.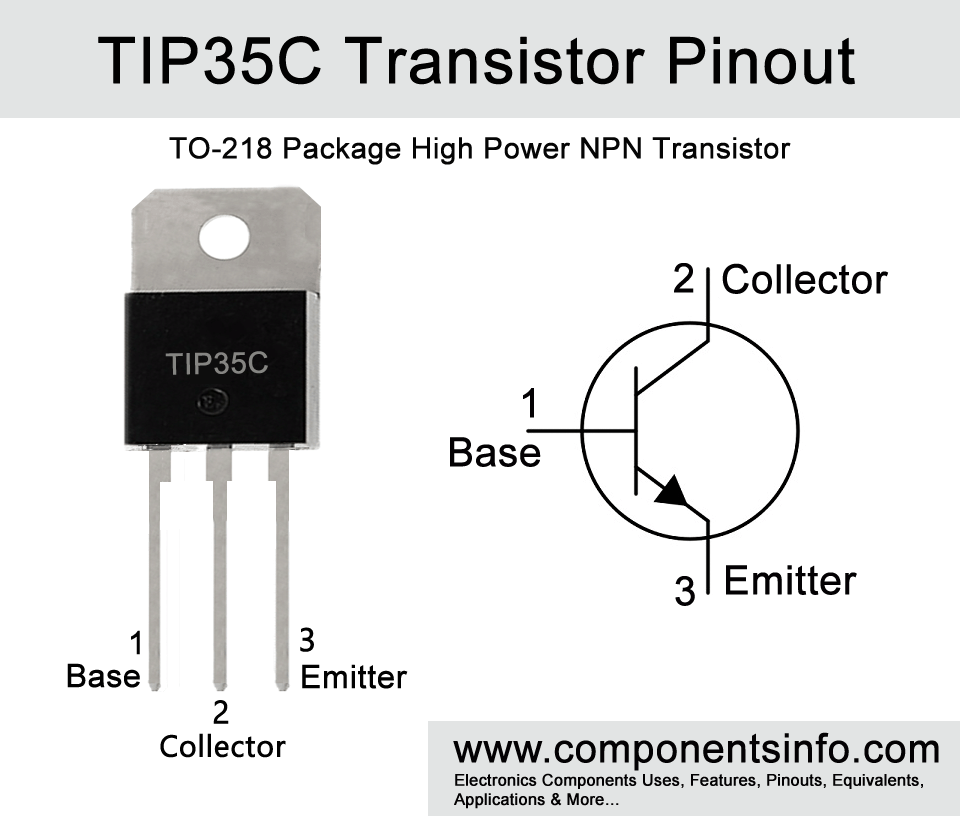 Features / Technical Specifications:
Package Type: TO-218 & TO-247
Transistor Type: NPN
Max Collector Current(IC): 25A
Max Peak Collector Current(ICM): 40A
Max Collector-Emitter Voltage (VCE): 100V
Max Collector-Base Voltage (VCB): 100V
Max Emitter-Base Voltage (VBE): 5V
Max Collector Dissipation (Pc): 125W
Max Transition Frequency (fT): 3 MHz
Minimum & Maximum DC Current Gain (hFE): 25 to 50
Max Storage, Operating & Junction temperature range: -65 to +150 Centigrade
PNP Complementary:
PNP Complementary of TIP35C is TIP36C.
Replacement and Equivalent:
TIP35B, 2SD716, 2SD84, BD249, BD249A, BD249B, BD249C, BD545, BD545A, BD545B, BD545C, BD745, BD745A, BD745B, BD745C.
TIP35C Transistor Explained / Description:
If you are searching for a high power transistor that can drive load of upto 25A with 100V then TIP35C might be a good choice. It is a NPN transistor available in TO-218 & TO-247 case or package and designed for wide variety of general purpose of switching and amplification applications.
As mentioned above the transistor is capable to drive load of upto 25A, so when used as a switch it can drive wide variety of loads such as DC motors, relays, lamps etc. and the load voltage can be upto 100V. The transistor can also be used separately or with its PNP complimentary transistor TIP36C to build high power audio amplifiers.
Looking further at the specs the max peak collector current of the transistor is 40A, max collector to base voltage is also 100V, max transition frequency is 3MHz, minimum and maximum DC current gain is 25 go 50 and max collector dissipation is 125W.
Where We Can Use it & How to Use:
The transistor is actually designed to use in general purpose switching and amplification applications due to which it can be used in wide variety of applications such as power supplies, charging equipment, solar, automotive etc. Other than that it can also be used to build high power audio amplifiers. The narrow down list of applications can be found below.
Applications:
High Power Audio amplifiers
DC Power Supplies
Motor Driving
Solar Charge Controllers
Battery Chargers
Battery Backup Circuits
Uninterruptible Power Supplies
Switching loads under 25A
Safe Operating Guidelines / Absolute Maximum Ratings:
Read and follow these safe operating guidelines for better long term performance.
Do not use the transistor to its absolute maximum ratings, using a component to its absolute max ratings may provide stress on the component which result in damaging the component, make it weak or make its life short. For better and long term performance of a component use it atleast 20% below from its max ratings.
The max collector current is 25A so do not drive load of more than 20A.
The maximum collector to emitter voltage is 100V therefore drive load under 80V.
Use a suitable heatsink with the transistor.
And always store or operate it at temperatures above -65°C and below +150 °C.
Datasheet:
To Download the datasheet just copy and paste the below link in your browser.
https://cdn.datasheetspdf.com/pdf-down/T/I/P/TIP35C_ONSemiconductor.pdf