K3878 MOSFET Pinout, Features, Applications, Equivalents, How to Use and Other Useful Info
2SK3878 is a versatile MOSFET and can be used in a wide variety of applications. In this post we are going to explain K3878 MOSFET pinout, features, applications, equivalents, how to use and other useful info.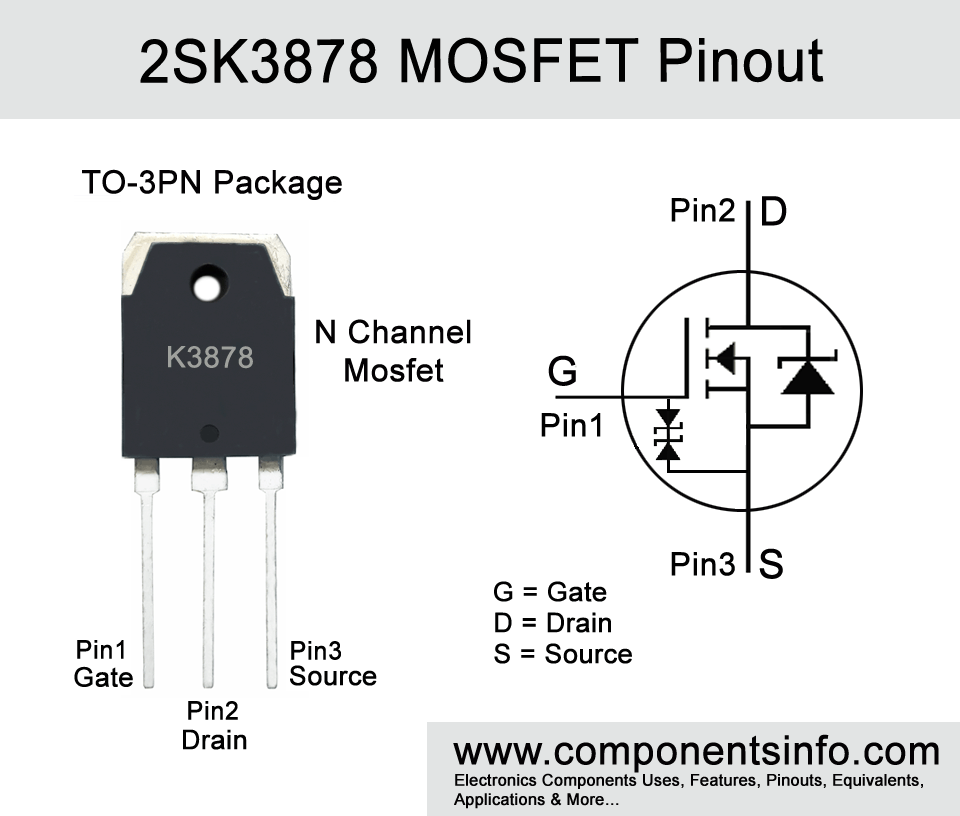 Features / Technical Specifications:
Package Type: TO-3PN
Transistor Type: N Channel MOSFET
Max Drain to Source Voltage: 900V
Max Gate to Source Voltage Should Be: ±30V
Max Continues Drain Current is : 9A
Single Pulsed Drain Current: 27A
Max Power Dissipation is: 150W
Max Storage & Operating temperature Should Be: -55 to +175 Centigrade
Replacement and Equivalent:
2SK4023, 2SK3766, 2SK3798, 2SK4003, 2SK4014, 2SK4106, 2SK3843, 2SK3799
2SK3878 Transistors Explained / Description:
K3878 is a high voltage N Channel MOSFET available in TO-3PN package. The pin configurations of the transistor are "Gate" first pin, "Drain" second pin and "Source" third pin. Looking at the absolute maximum ratings of the transistor it has max drain-source voltage of 900V, max drain continuous current is 9A, single pulsed drain current is 27A, gate-source continuous voltage is ±30V, total dissipation is 150W, max operating and junction temperature is 150°C and max storage temperature is -55°C to 150°C.
The transistor has many good features such as
Drain-source voltage of 900V
which means that this transistor is capable to supply upto 900V to the load or you can drive upto 900V loads with this transistor
Upto 9A of current driving capability
Upto 9A current capability makes it suitable to drive variety of different loads for example motors, relays and variety of industrial electronic applications.
RDS(on) resistance of 1.3 Ohms
The term RDS(on) means the resistance between drain and source when the transistor is in fully on state so the low on resistance feature improve the overall efficiency of the transistor by reducing power losses, reduce heat generation, reduce voltage drop and switching losses.
Capability of fast switching
The capability of fast switching makes it ideal to use in applications where fast switching is crucial such as in UPS circuits, motor drivers, switching power, LED driver circuits etc.,
Simple Drive Requirements
Simple drive requirements means that this transistor this transistor can be used in simple ways with minimum basic components unless some other these type transistor that require special circuitry.
Very small leakage current
All transistor have some amount of leakage current but 2SK3878 is manufactured with this in mind so it has very low leakage current.
Avalanche energy specified
It is avalanche energy specified means that it is capable of handling high voltage spikes.
These good features make it a really useful and versatile device to use in wide variety of applications such as power supplies, voltage converters, equipment control circuits and variety of general purpose applications.
Where We Can Use it & How to Use:
This is a versatile transistor and it has many uses such as you can use it in any kind of high voltage applications, high and low voltage power supplies, many different kinds of voltage converter circuits, controlling circuits where we can control a device with it such as motors, lights, and many other circuits. The details list of its applications can be found under the applications heading below.
To use the MOSFET first check its pins which are gate, drain, and source. Connect the gate pin to the signal source, the drain should be connected to the load and the source pin should be connected to the ground. Moreover, to drive or turn ON the MOSFET it is important to apply voltage higher than mentioned in the datasheet. As we have discussed the transistor have protection capability for voltage spikes but if you are doughty that your circuit can produce more voltage spikes then you should use some components for protection such as diodes, resistors or capacitors.
Applications:
Industrial Automation
Uninterruptible Power Supplies (UPS)
Lighting Control / Controlling and dimming lights intensity
Solar Power Systems
PWM Applications
Power Amplification
Automotive Electronics
Control circuits
Motor drives
Power Supplies – switch mode power supplies (SMPS) and other power supplies
Switching Circuits
Electronic Ballasts
DC-DC Converters
Power Management
Voltage Regulation
Inverters
Safe Operating Guidelines 
For getting long term performance in your circuit it is important to consider these safety guidelines:
Do not use the MOSFET to its maximum limits or its absolute maximum ratings and stay at least 20% below from these values.
The max drain to source voltage of the transistor is 900V, therefore the derived load should be under 720V.
The max continuous drain current is 9A, therefore the drive load should not exceed 7.2A.
Always use a suitable heatsink with the transistor.
Store or operate the MOSFET at temperatures above -55°C and below 150 °C.
Datasheet:
To Download the datasheet just copy and paste the below link into your browser.
https://z3d9b7u8.stackpathcdn.com/pdf-down/2/S/K/2SK3878-nELL.pdf