MPSA92 Transistor Pinout, Equivalent, Features, Specs and Other Useful Info
This post covers MPSA92 transistor pinout, equivalent, features, specs and other useful information about where to use this high voltage BJT transistor.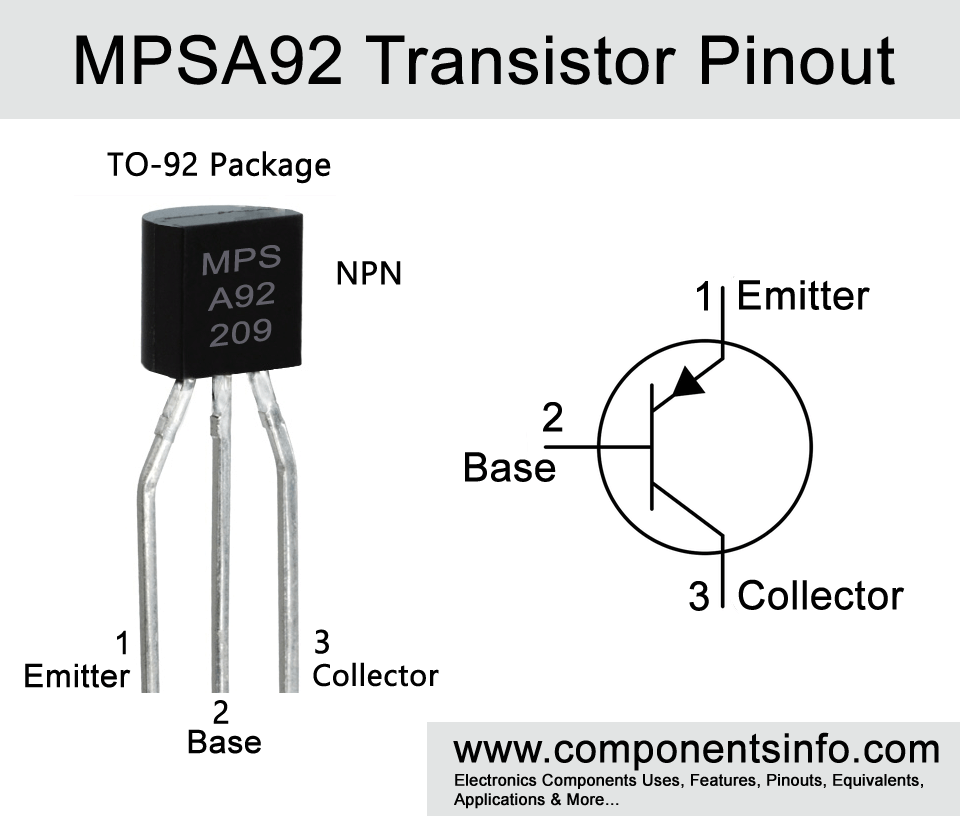 Features / Technical Specifications
Package Type: TO-92 and Other Packages
Transistor Type:  PNP
Max Collector Current(IC): –200mA to -500mA (See Description)
Max Collector-Emitter Voltage (VCE): –300V
Max Collector-Base Voltage (VCB): –300V
Max Emitter-Base Voltage (VEBO): –5V
Max Collector Dissipation (Pc): 625 mW
Max Transition Frequency (fT): 50 MHz
Minimum & Maximum DC Current Gain (hFE): 25 – 40
Max Storage & Operating temperature Should Be: -55 to +150 Centigrade
NPN Complementary
NPN Complementary of MPSA92 is MPSA42.
Replacement and Equivalent
MPSA93, BF421A, BF493, 2SA1625, 2SA859, BF692P
MPSA92 Transistor Explained / Description
MPSA92 is a general purpose PNP bipolar junction transistor that is specially designed for high voltage applications. The transistor is available in many different packages by few manufacturers while few others only manufacture's it in TO-92 package. The maximum collector to emitter voltage of the transistor is -300V this feature makes this transistor unique as compare to other general purpose BJT transistors. Moreover the maximum collector current of the transistor is -200mA and some manufacturers also manufacture it with upto -500mA collector current. The maximum collector dissipation of 625mW also makes it ideal to use for audio amplification purposes.
Where We Can Use it & How to Use
As mentioned above MPSA92 transistor is designed for high voltage applications therefore one can use it in any high voltage circuitry under -300V. When used as a switch it can drive load of upto -200mA to -500mA thus it can drive many loads in circuits such as relays, LEDs, high power transistors, ICs etc. Other than that it can also be used in as an audio amplifier separately or also in audio amplifier stages. The maximum transition frequency of 50MHz due to which it can also be used in RF applications under 50MHz.
Applications
Uninterrupted power supply circuits
High voltage power supply circuits
Inverter circuits
Transformerless power supplies
Battery charger circuits
DC High Voltage Switching
Audio Amplifiers
Telecommunication and computer circuits
How to Safely Long Run in a Circuit
To get long term performance with MPSA92 transistor it is suggested to always use the transistor atleast 20% below from its maximum ratings. The maximum collector to emitter voltage of the transistor is -300V therefore do not drive load of more than -240V. If your purchased device has -200mA collector current then do not drive load of more than -160mA and if the collector current is -500mA then the load should not be increased from -400mA. The storage and operating temperature of the transistor should be under -55 degree Celsius to +150 degree Celsius.
Datasheet
To Download the datasheet just copy and paste the below link in your browser.
https://cdn.datasheetspdf.com/pdf-down/M/P/S/MPSA92_ONSemiconductor.pdf