13005 / MJE13005 Transistor Pinout, Equivalent, Features, Uses
Today we are going to discuss about 13005 / MJE13005 transistor pinout, equivalent, features, uses and other information about this high voltage TO-220 Packaged BJT transistor.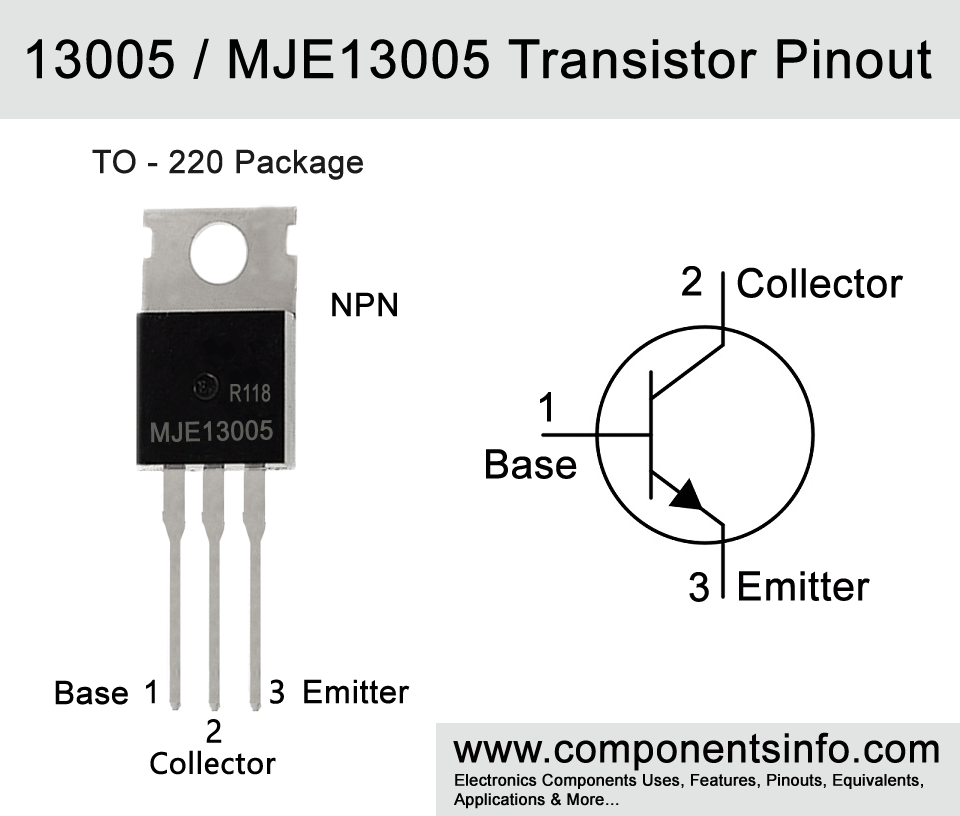 Features / Technical Specifications:
Package Type: TO-220
Transistor Type:  NPN
Max Collector Current(IC): 4A
Max Collector-Emitter Voltage (VCE): 400V
Max Collector-Base Voltage (VCB): 700V
Max Emitter-Base Voltage (VEBO): 9V
Max Collector Dissipation (Pc): 75 Watt
Max Transition Frequency (fT): 4 MHz
Minimum & Maximum DC Current Gain (hFE): 10– 60
Max Storage & Operating temperature Should Be: -65 to +150 Centigrade
Replacement and Equivalent:
ST13005, MJE13004, BUJ103A, 2N6499, 2SC2333, 2SC2535, 2SC2536, 2SC2552, 2SD271, 2SD272, 2SD422, 2SD423, 2SD518, 2SD622, 2SD724, KSE13004, KSE13005, MJ4380, MJ4401, MJE53, MJE53T, TIP75, TIP75A, TIP75B, TIP75C.
There are also other high voltage transistors are available with slightly different voltage and ampere, you can also use them if they suits  to your requirements, these are MJE13003, MJE13006, MJE13007, MJE13008 and MJE13009.
MJE13005 Transistor Explained / Description:
MJE13005 also called 13005 is a TO-220 package BJT high voltage transistor designed for high voltage applications. The transistor is capable of high speed switching and can be used in high voltage applications where switching speed is important. The collector-emitter voltage is upto 400V which makes this transistor reliable to use in many electronic applications under 400V. Moreover the collector current of 4A also makes it capable to drive variety of loads when used as a switch.
13005 can also be used as an amplifier, the collector dissipation of 75W also makes it ideal to use in audio amplifier circuits. Although the transistor is built for high voltage application but it can also be used as a switch or amplifier in low voltage and battery operated circuits.
Where We Can Use it & How to Use:
MJE13005 can be used for variety of high voltage applications such as high voltage power supplies, inverters, motor controllers, UPS, battery chargers etc. It can also be used in stages to build high power amplifier or can also be used as a separate amplifier to drive a speaker. Other than that it can also be used as a switch and amplifier in low voltage and battery operated circuits.
Applications:
Uninterrupted power Supplies
Power Supply Circuits
Inverter Circuits
Battery Charger Circuits
Motor Controllers
Audio Amplifier & Audio Amplifier Stages
How to Safely Long Run in a Circuit:
For long life and good performance it is suggested to not use MJE13005 to its maximum limits and it is always better to use it atleast 20% below from its max ratings. The Maximum load current of the transistor is 4A so do not drive load of more than 3.2A to 3.5A. The maximum load voltage is 400V so always stay around 300V to 320V DC. Use a suitable heatsink with the transistor and store and operate the transistor in temperature between -65 to +150 Centigrade.
Datasheet:
To Download the datasheet just copy and paste the below link in your browser.
https://cdn.datasheetspdf.com/pdf-down/M/J/E/MJE13005_ThinkiSemiconductor.pdf