J176 JFET Pinout, Equivalent, Uses, Features, and Other Info
J176 is a JFET available in TO-92 and SOT-24 packages.  This post contains all the important information about this JFET such as J176 JFET pinout, equivalent, uses, features, and other info.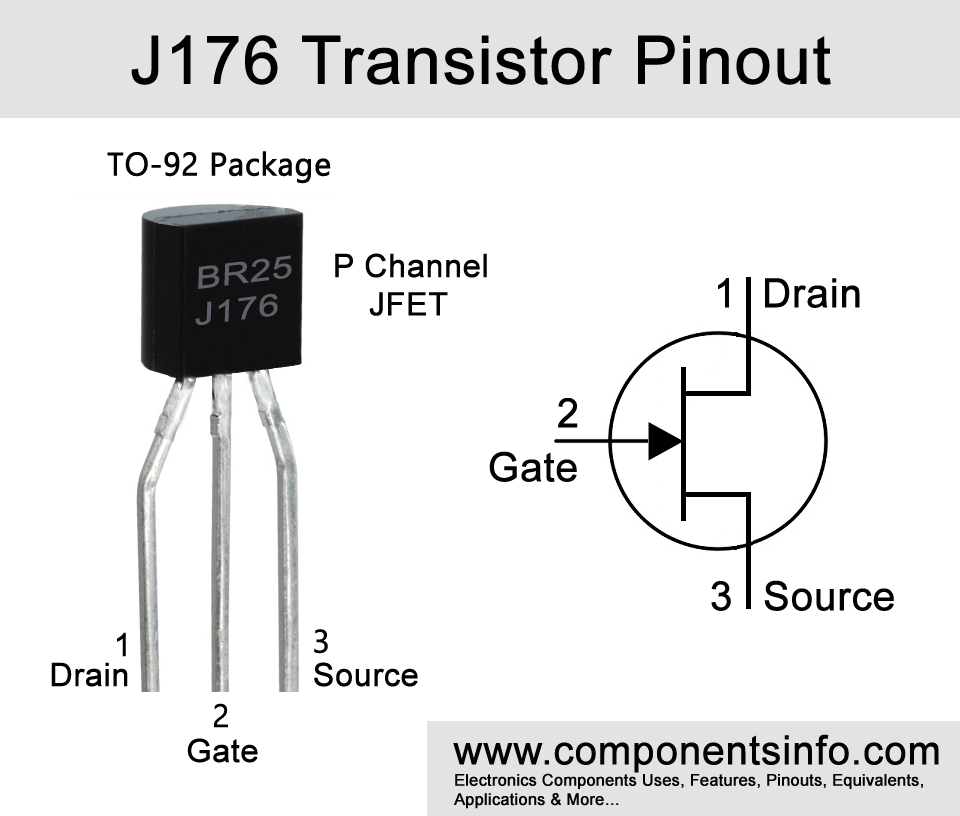 Features / Technical Specifications:
Package Type: TO-92 & SOT-23
Transistor Type: P Channel JFET
Maximum Drain to Gate Voltage: -30V
Max Gate to Source Voltage: 30V
Max FWD Gate Current: 50mA
Zero to Gate Voltage Drain Current: -0.20mA to -25mA
Maximum Device Dissipation: 250mW
Drain to Source On Resistance: 250Ω
Max Storage & Operating temperature Should Be: -55°C to +150 °C
Replacement and Equivalent:
J174, J175, J176
J176 Transistors Explained / Description:
J176 is another JFET (Junction Field Effect transistor) from the J17x series, other transistors in this series are j174, J175, and J177. It is a P channel transistor available in TO-92 and SOT-23 packages. It is designed to use in many applications such as sample and hold circuits. Sample and hold circuits are used in electronics to take sample of a particular time of an analog signal and hold it. This kind of circuit is mostly used in audio processing circuits, analog to digital converter circuits, etc. Another application for which this transistor is designed to use is "low level analog switching". Low level analog switching circuit is a circuit in which a signal is amplified accurately without much loss and distortion. These types of circuits are used in applications such as audio amplifiers, equalizers, filters, etc. Another application this transistor is designed for is chopper stabilized amplifier, chopper stabilized amplifier is a circuit used in electronic applications which require high accuracy amplification at the output. These types of circuits are used in medical equipment, measurement instruments, scientific equipment, etc.
Where We Can Use it & How to Use:
This transistor can be used in Current Limiters, Normally "ON" Choppers,  Switches, etc. To see more applications check the "Applications" heading below. This JFET can be used as a switch and also as an amplifier in electronic circuits. For using the transistor in your design it is recommended to check and follow its operating parameters and operating conditions from the datasheet.  
Applications:
Sample and Hold
Low Level Signal Amplification
Oscillators
RF Amplifiers
Voltage Regulators
Signal Modulation & Demodulation
Low Noise Applications
Instrumental Amplifier
Automotive Applications
Safe Operating Guidelines
For long term reliable performance, it is better to always keep in mind the safety of the transistor. So for safe operation, it is always recommended to not use a transistor to its absolute maximum rating and stay atleast 20% below from its max rating. Additionally, it is also recommended to always operate the transistor between temperatures from -55°C and below 150 °C
Datasheet:
To Download the datasheet just copy and paste the below link in your browser.
https://z3d9b7u8.stackpathcdn.com/pdf-down/J/1/7/J176_FairchildSemiconductor.pdf