IRFZ48N Transistor Pinout, Uses, Equivalent, Features and More
Today we are going to discuss about IRFZ48N transistor pinout, uses, equivalent, features and other important details about this TO-220 packaged power MOSFET device.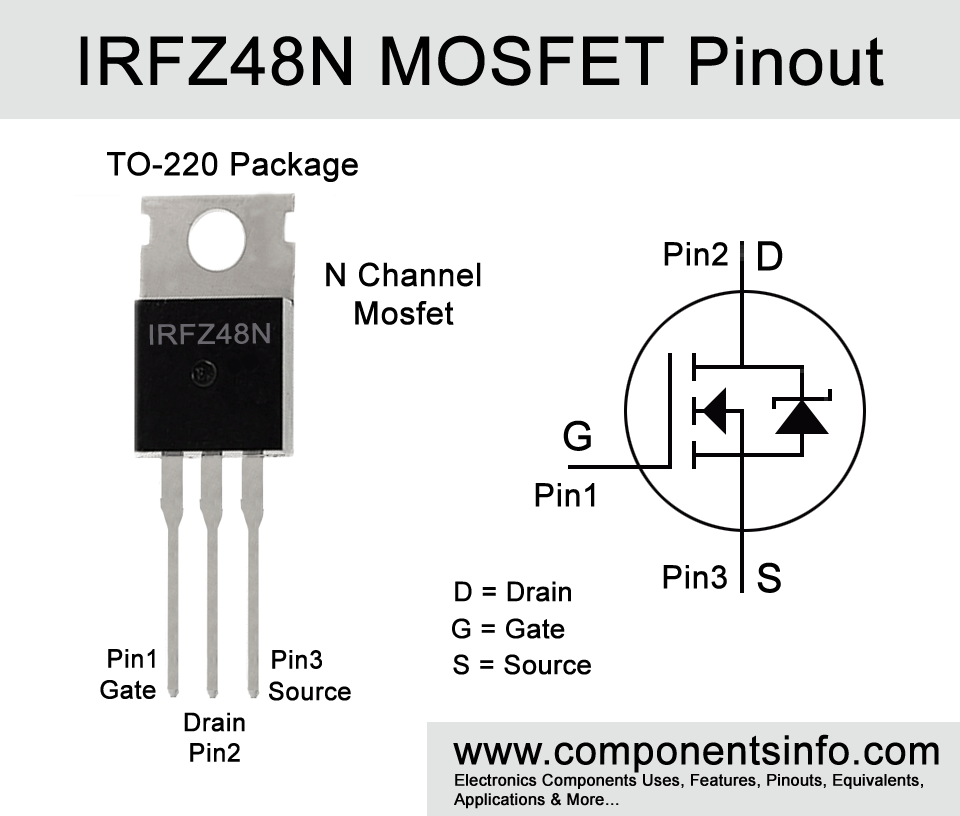 Features / Technical Specifications
Package Type: TO-220
Transistor Type: N Channel
Max Voltage Applied From Drain to Source: 55V
Max Gate to Source Voltage Should Be: ±20V
Max Continues Drain Current is : 64A
Max Pulsed Drain Current is: 210A
Max Power Dissipation is: 130W
Drain to Source Resistance in ON State (RDS on): 14mΩ
Max Storage & Operating temperature Should Be: -55 to +175 Centigrade
Replacement and Equivalent
IRFZ44A, IRLZ44N, NDP7061, RFP70N06, SUP70N06-14, BUK7514-55 , BUK9514-55 , BUZ100S, BUZ100SL, BUZ110SL, IRF1010, MTP52N06V,  MTP52N06VL, MTP55N06Z, NDP7061, RFP70N06, SMP50N06-25, SMP60N06-18, STP53N06, SUP70N06-14.
IRFZ48N MOSFET Explained / Description
IRFZ48N is a power MOSFET manufactured in TO-220 transistor package. It is a ruggedized transistor and can be used for general uses in variety of applications. Moreover the transistor possesses variety of features which makes it reliable for many commercial applications, some features are fast switching capability, high temperature survival of upto 175 degree Celsius, very low drain to source resistance in ON state only 14mΩ, ESD protection of max 2 kilo volts etc.
Furthermore the maximum continuous drain current of the transistor is 64A which means it can drive load of upto 64A and the maximum voltage applied from drain to source is 55V which means that you can drive load of upto 55V with this transistor. The max power dissipation of the transistor is 130 watts and the maximum soldering temperature limit of the device is 300 degree centigrade for 10 seconds.
Where and How to Use
IRFZ48N transistor is built to use in variety of general purpose applications therefore you can use this transistor in most of the applications which falls under its ratings, but other than that it can also perform well in some applications such as switching power supplies, UPS or applications where high volt ESD protection is required. Other than that it can also be used for audio amplification purposes.
Applications
Battery Chargers Circuits
BMS Circuits
Switch Mode Power Supplies
DC to DC converters
Solar Chargers and Power Supplies
How to Safely Long Run in a Circuit
A component's long life performance is also a very important factor to consider when designing a circuit or using it in a circuit, therefore I recommend not using a component on its maximum ratings which makes its life short and also decrease the performance over time. I always suggest to use it below from its max ratings or atleast 20% below. Same applies to IRFZ48N MOSFET, the maximum continuous drain current is 64A therefore do not drive load of more than 51A, the max drain to source voltage is 55V therefore do not drive load of more than 44V, use a suitable heatsink with this transistor and always use or store this device in temperature above -55 degree centigrade and below +175 degree centigrade.
Datasheet
To Download the datasheet just copy and paste the below link in your browser.
https://cdn.datasheetspdf.com/MoV/web/viewer.html?file=/pdf-down/I/R/F/IRFZ48N-InternationalRectifier.pdf