IRFP450 Transistor Pinout, Equivalent, Specs, Features, Applications And More
This article explains about IRFP450 transistor pinout, equivalent, specs, features, applications, benefits of using this device in your design and other details about this N Channel power MOSFET.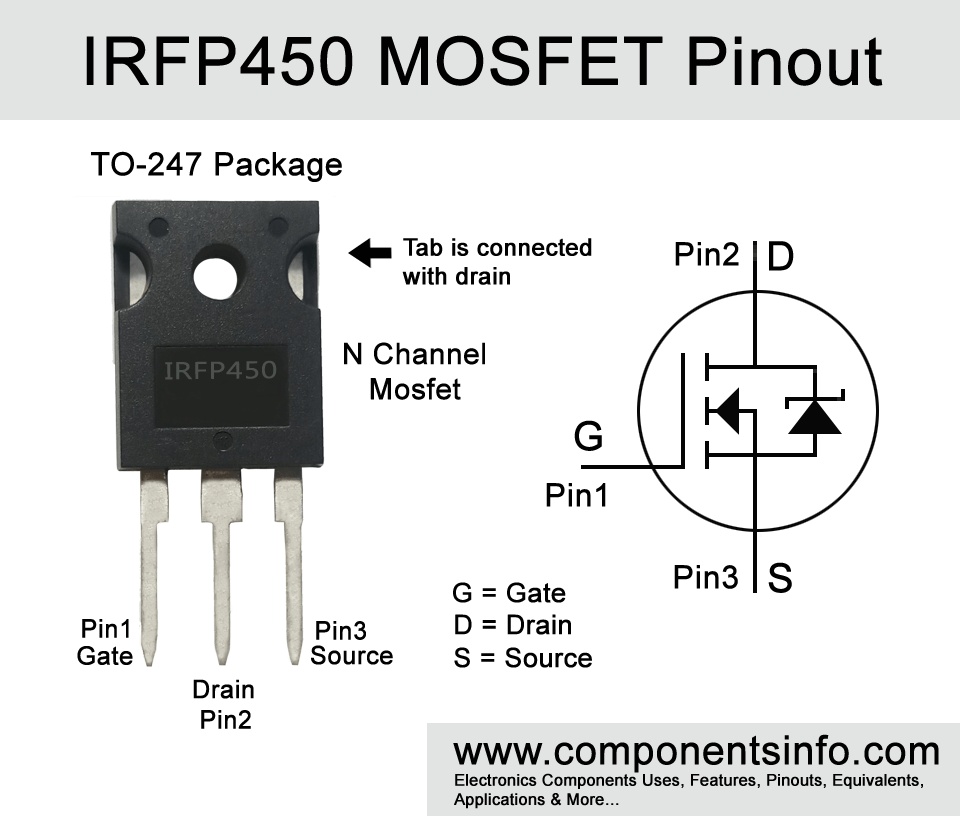 Features / Technical Specifications:
Package Type: TO-247
Transistor Type: N Channel
Max Voltage Applied From Drain to Source: 500V
Max Gate to Source Voltage Should Be: ±20V
Max Continues Drain Current is : 14A
Max Pulsed Drain Current is: 56A
Max Power Dissipation is: 180W
Max Drain to Source Resistance in ON State (RDS on): 0.400Ω
Max Storage & Operating temperature Should Be: -55 to +150 Centigrade
Replacement and Equivalent:
IRFP451, IRFP354, BUZ338, MTW14N50E, TA17465, 2SK1517, 2SK1518, 2SK1516, 2SK1517, 2SK2057, 2SK1169, STW20NB50, MTW20N50E, STH15NA50, STW15NA50,  2SK1167, 2SK1170, 2SK1531, 2SK1745, 2SK559, 2SK560.
IRFP450 Transistor Explained / Description:
IRFP450 is an N channel power MOSFET available in TO-247 package and also in TO-3P from some manufacturers. It is a low cost and ruggedized transistor and reliable to use in commercial and industrial designs. It has many good features which make it ideal and superior over similar transistors such as
Fast Switching:
The fast switching speed of nanoseconds capability of the transistor makes it ideal to use in switching circuits and application where high speed is crucial.
Simple drive requirements:
The MOSFET is simple to drive which makes it ideal to use at the output of integrated circuits and microcontrollers to drive other high power loads.
Drain to source voltage of upto 500V
The drain to source voltage capability of 500V makes this transistor a versatile device to use in high voltage AC and DC circuits.
Isolated Central Mounting Hole
Another good feature of the transistor is isolated central mounting hole which isolates it from the PCB.
IRFP450 is not limited to above features and it also has many other features such as, dynamic dV/dt rating, repetitive avalanche rated, east of paralleling etc.
As regarding to the load driving and other specs of the transistor its maximum continuous drain current is 14A, maximum drain to source voltage is upto 500V, drain to source resistance in ON state is 0.400Ω and maximum power dissipation is 180W.
The primary applications of the transistor are motor drivers, high power transistor drivers, switching regulators, UPS, AC to DC and DC to DC converters, AC applications. But it is not only limited to these uses and can be used in variety of different applications.
Where We Can Use it & How to Use:
As mentioned above IRFP450 is primarily designed for are high power transistor drivers, UPS, AC to DC and DC to DC converters, AC applications, motor drivers, switching regulators. But it can be used in wide variety of other applications such as battery chargers, Solar Chargers, high power audio amps etc.
Applications:
Switch Mode Power Supplies
BMS Circuits
Uninterruptible Power Supply Circuits
DC to DC converters
AC to DC converters
Solar Power Supplies
Solar Charger Applications
Motor Driver Applications
Battery Chargers
High Power Audio Amplification Applications
Safe Operating Guidelines / Absolute Maximum Ratings:
For getting long term performance with IRFP450 do not drive it to its absolute maximum ratings and always stay 20% below from these absolute max ratings. The maximum drain to source voltage is 500V so do not drive load of more than 400V, the maximum continuous drain current is 14A so do not drive load of more than 11A. Use a suitable heatsink with the transistor and always store or operate the MOSFET in temperature -55°C and below +150 °C.
Datasheet:
To Download the datasheet just copy and paste the below link in your browser.
https://cdn.datasheetspdf.com/pdf-down/I/R/F/IRFP450_IntersilCorporation.pdf