IRF9Z34N MOSFET Pinout, Equivalent, Features, Specs, Applications and More
IRF9Z34N is a P channel MOSFET that can drive upto -19A load with -55V load voltage. Today we are going to discuss IRF9Z34N MOSFET pinout, equivalent, features, specs, applications, and other useful details of this MOSFET.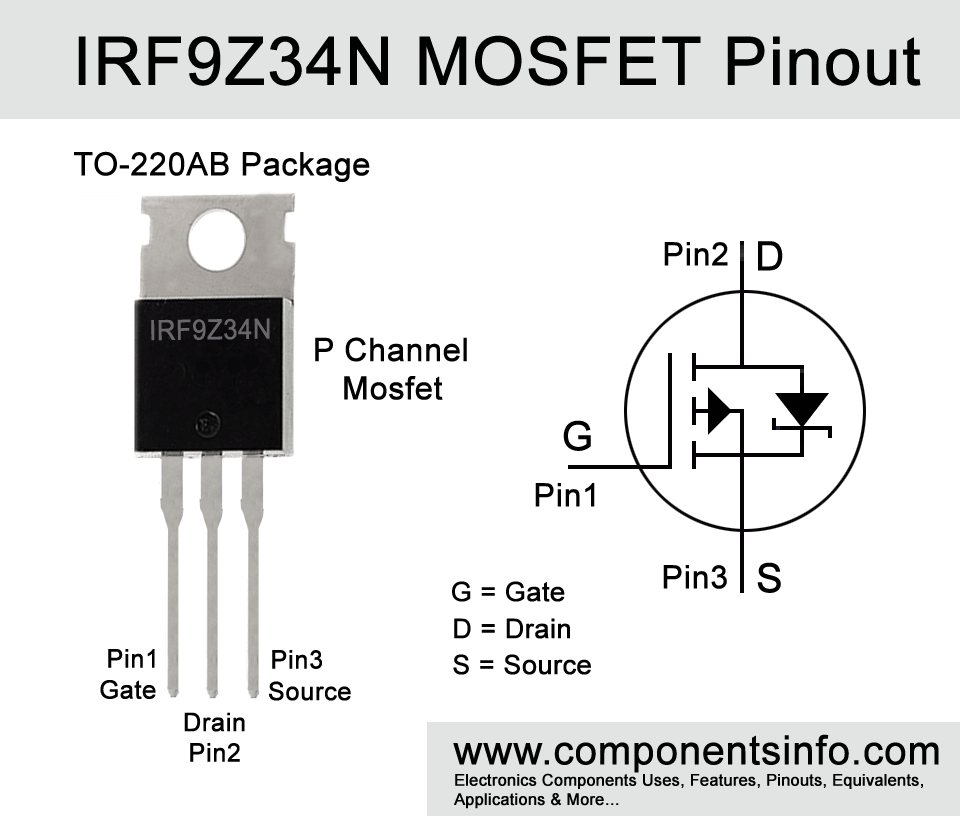 Features / Technical Specifications:
Package Type: TO-220AB
Transistor Type: P Channel
Max Voltage Applied From Drain to Source: -55V
Max Gate to Source Voltage Should Be: ±20V
Max Continues Drain Current is : -19A
Max Pulsed Drain Current is: -68A
Max Power Dissipation is: 68W
The Total Gate Charge is: 35nC
Max Drain to Source Resistance in ON State (RDS on): 10Ω
Max Storage Operating & Junction temperature is: -55 to +175 Centigrade
Replacement and Equivalent:
UTT30P06, FQP27P06, CEP20P10, AM90P06‑20P, MTB110P10E3
IRF9Z34N Transistors Explained / Description:
IRF9Z34N is a P channel power MOSFET designed to use in wide variety of applications. It is available in TO-220AB package and can drive load of up to -19A with load voltage of upto -55V. The MOSFET also has very good RDS(on) or static drain to source resistance in on state is 0.10 Ohms.
The MOSFET has many features such as:
Fast Switching:
The MOSFET has fast switching speed capability which is required by many applications in electronics.
Dynamic dv/dt Ratings:
During ON OFF switching of a MOSFET its voltage from drain to source changes very fast which results in voltage spikes the dynamic dv/dt ratings ensures max VDS change capability in a MOSFET which is also an important factor to consider in a MOSFET.
175°C Operating Temperature:
The high operating temperature is useful when you want to use the MOSFET in applications which are working in high temperatures or also in the applications which have higher current requirements which result in more heat generation from the MOSFET. So the high temperature feature or capability makes the MOSFET more stable and damage proof.
Fully Avalanche Rated
Fully avalanche rated is a feature which saves the MOSFET from voltage spikes due to the breakdown voltage limit exceed in a MOSFET. The MOSFET with this feature is ideal for applications like switching supplies or inductive loads.
Looking at the specs of the transistor the maximum drain to source voltage is -55V, max continuous drain current is -19A, max pulsed drain current is-68, max power dissipation is 68W, max (RDS on) is 0.10mΩ, total gate charge is 35nC and storage, junction and operating temperature range is -55°C to +175°C.
Where We Can Use it & How to Use
This MOSFET can be used in power supplies, control circuits such as motor or other electronic devices controlling, lighting circuits, automotive circuits, audio circuits etc. The detailed list of its applications can be found under the applications heading below.
Unlike BJT transistors which are controlled by current MOSFET are voltage controlled devices using a MOSFET is not very difficult but you have to know how much voltage you have to provide to get the required continuous drain current so you can choose a MOSFET according to your circuit requirements or provide only require amount of voltage to its gate to get the desired amount of drain current. According to the specs this MOSFET requires 9V to 10V to fully saturate or to become in fully ON state to pass maximum current across its drain to source. However if you want to drive a load of 10A then you can also provide it only 6V. If you are using it in a 5V circuit then on 5V its maximum drain current will be 4A.
Applications:
BMS Circuits
LED Driver Circuits
Motor Driver applications
Switch Mode Power Supplies
Small UPS Circuits
Audio Amplifier Circuits
Solar Inverters
Solar Power Supplies
Battery Chargers Circuits
Automotive Circuits
Safe Operating Guidelines 
To safely operate this MOSFET it is important to know about the maximum limits of this device.
First of all it is very important to not use the transistor on its absolute maximum rating. Using any transistor to its absolute maximum ratings can damage the transistor or weaken its performance.
The maximum drain to source voltage of the transistor is -55V therefore do not drive load of more than -44V.
Maximum continuous drain current is -19A therefore do not drive load of more than 15A.
Always use a heatsink with the transistor.
Do not store or operate the transistor at temperatures below -55°C and above +175 °C.
Datasheet:
To Download the datasheet just copy and paste the below link in your browser.
https://z3d9b7u8.stackpathcdn.com/pdf-down/I/R/F/IRF9Z34N_InternationalRectifier.pdf