IRF840 Pinout, Equivalent, Explanation, Uses and Other Info
This post explains about IRF840 pinout, equivalent, explanation, uses and other information about how and where to use this N channel high voltage MOSFET.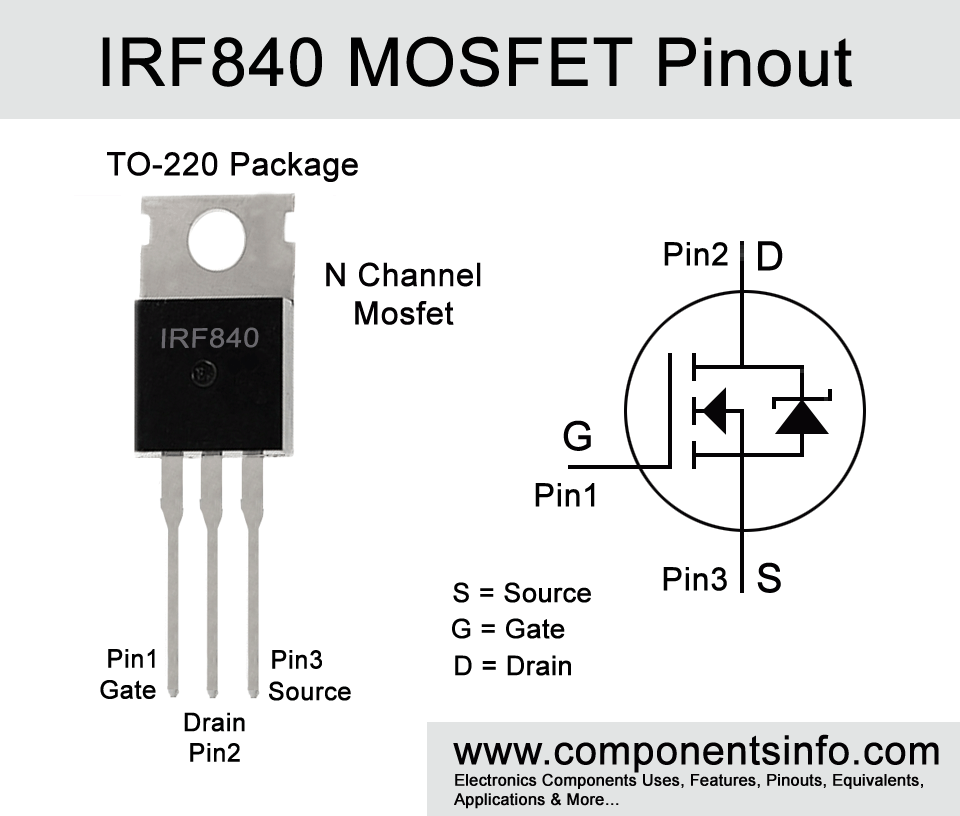 Features / Technical Specifications:
Package Type: TO-220
Transistor Type: N Channel
Max Voltage Applied From Drain to Source: 500V
Max Gate to Source Voltage Should Be: ±20V
Max Continues Drain Current is : 8A
Max Pulsed Drain Current is: 32A
Max Power Dissipation is: 125W
Minimum Voltage Required to Conduct: 2V to 4V
Max Storage & Operating temperature Should Be: -55 to +150 Centigrade
Replacement and Equivalent:
YTA840, IRF841, IRF842, IRF843, IRFI840G, IRFS840, IRFS841, STP8NA50, 2SK554, 2SK1158, 2SK1566, 2SK1567, 2SK1805, 2SK2116, 2SK2117, 2SK2118, 2SK2175, IRF744.
IRF840 MOSFET Explained / Description:
IRF840 is an N-Channel MOSFET available in TO-220 package. It is designed for high voltage applications of upto 500V with high speed switching capabilities. It can be used for both switching and amplification purposes. As a switch it can drive load of upto 8A and load of upto 30A in pulse mode. The device can be used in many high voltage applications such as power supplies, motor controllers, UPS etc. Additionally IRF840 can also be connected and controlled directly with the output of integrated circuits.
The max power dissipation is 125 Watt due to which it can also be used in audio amplification circuits.
Where We Can Use it & How to Use:
IRF640 can be used in circuit where you want to drive a high voltage load of upto 500V with upto 8A load current. It can also be used in circuits where high speed switching is crucial. Additionally you can use it directly at the output of ICs, microcontrollers and other electronic platforms like Arduino and Raspberry Pi to drive loads.
Other than that it can also be used to build high power audio amplifiers.
Applications:
Battery Charger Circuits
Solar Power Applications
Applications That Requires Fast Switching
AC Motor Drivers / Controllers
DC Motor Drivers / Controllers
Uninterruptible Power Supplies
How to Safely Long Run in a Circuit:
To get long term performance it is always better to use a component on its full extent or on its maximum limits. Therefore we suggest to always use a component to its 80% capability or 20% below from its max ratings. The max load voltage IRF840 can handle is 500V therefore do not drive load of more than 400V. The max drain current is 8A therefore do not drive load of more than 6.4A and always operate the transistor in temperature above -55 degree centigrade and below +150 degree centigrade.
Datasheet:
To Download the datasheet just copy and paste the below link in your browser.
https://cdn.datasheetspdf.com/pdf-down/I/R/F/IRF840_InternationalRectifier.pdf