IRF830 Pinout, Equivalent, Applications, Features and Other Important Info
In this post we are going to discuss about IRF830 pinout, equivalent, applications, features and other important info about this MOSFET.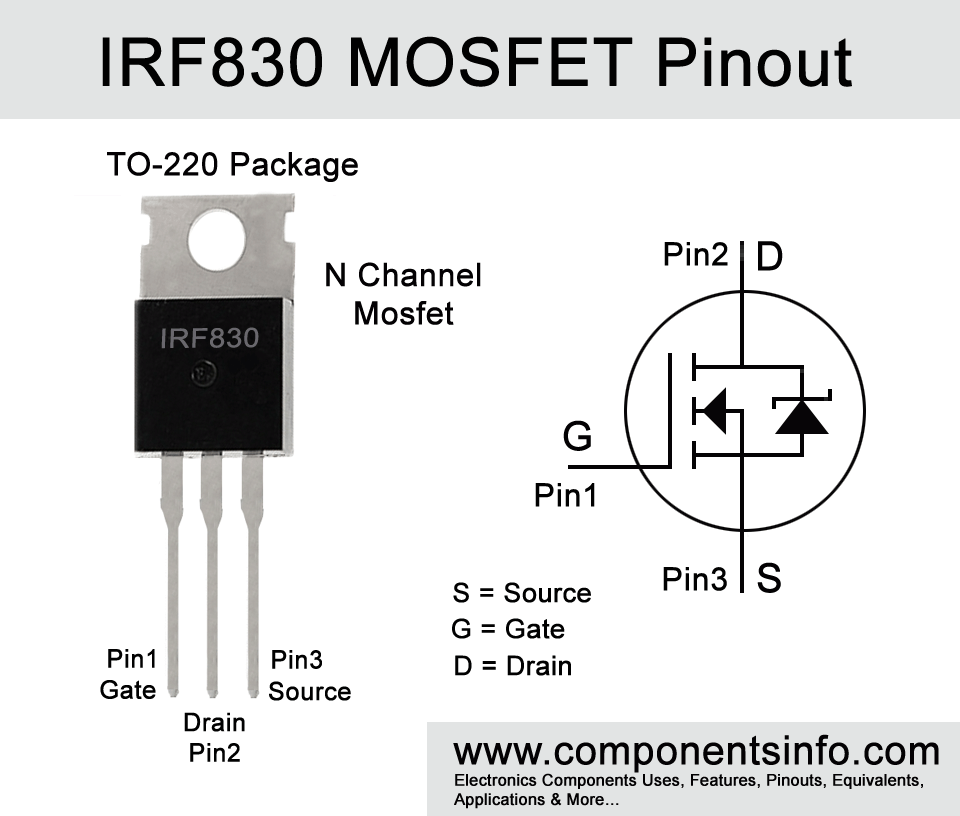 Features / Technical Specifications
Package Type: TO-220
Transistor Type: N Channel
Max Voltage Applied From Drain to Source: 500V
Max Gate to Source Voltage Should Be: ±20V
Max Continues Drain Current is : 5A
Max Pulsed Drain Current is: 18A
Max Power Dissipation is: 75W
Drain to Source Resistance in ON State (RDS on): 1.500Ω
Max Storage & Operating temperature Should Be: -55 to +150 Centigrade
Replacement and Equivalent
STP5NA50, IRF830FI, STP5NA50FI, IRF830S, 2SK1155, 2SK1156, 2SK1231, 2SK1232, 2SK1626, 2SK2114, 2SK2115, 2SK2662, 2SK552, BUK455-500B, BUZ41A, BUZ42, IRF734, IRF832, IRFI830G, IRFS830, MTP4N50E, SSP6N55, YTA830,    2SK1627, BUZ215, RFP6N45, RFP6N50, SSP6N55­­­.
IRF830 MOSFET Explained / Description
IRF830 is an N-Channel MOSFET mainly designed for high power and high speed applications but it can be used in any general purpose application.
The max drain to source voltage of the transistor is 500V due to which it can be used in high voltage applications. The max continuous drain current of the transistor is 4.5A and the max pulsed drain current is 18A.
IRF830 requires low gate drive power due to which it can be directly derived from the output of ICs, microcontrollers and other electronic platforms such as arduino, raspberry pi etc. Moreover this transistor can also be used as an audio amplifier.
Where We Can Use it & How to Use
IRF830 can be used in many applications for example in high voltage circuits, high speed applications, motor drivers and in any general purpose application which falls under its ratings. It can also be used at the output of ICs, Microcontroller and electronic platforms as described above. Other than that it can be used to build high power audio amplifiers.
Applications
Applications That Requires Fast Switching
Battery Charger and BMS Circuits
Solar Power Applications
AC & DC Motor Drivers / Controllers
Uninterruptible Power Supplies
How to Safely Long Run in a Circuit
For long life performance it is suggested to not use this transistor on its max limits. Using a component on its max limits can provide stress on a component and may result internal and outer damage of the component. Therefore we suggest using a component at least 20% below from its maximum ratings. The max drains to source current is 4.5A, therefore do not drive load more than 3.6A. The max drain to source voltage is 500V therefore d not drive load of more than 400V and always store and operate the transistor in temperature above -55 degree Celsius and below +150 degree Celsius.
Datasheet
To Download the datasheet just copy and paste the below link in your browser.
https://datasheetspdf.com/pdf-file/284075/IntersilCorporation/IRF830/1