BS250 MOSFET Pinout, Equivalent, Specifications, Applications
This post explains BS250 MOSFET pinout, equivalent, specifications, applications and other detailed info about this D-MOS transistor.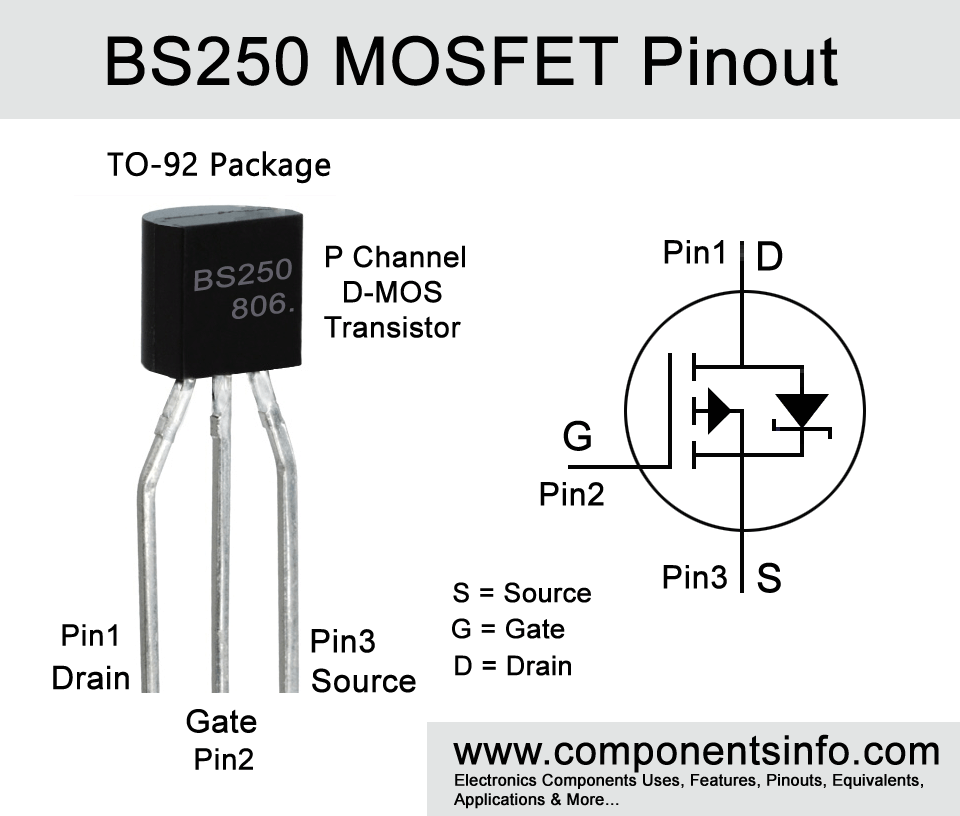 Features / Technical Specifications:
Package Type: TO-92
Transistor Type: P Channel
Max Voltage Applied From Drain to Source: –45V
Max Gate to Source Voltage Should Be: ±20V
Max Continues Drain Current is : –250mA
Max Power Dissipation is: 8300mW
Max Storage & Operating temperature Should Be: -65 to +150 °C
Replacement and Equivalent:
TP0610L, VP0610L, ZVP2106A, ZVP2110A
BS250 MOSFET Explained / Description:
BS250 is a P Channel enhancement mode vertical D-MOS transistor manufactured in TO-92 package. The pin configuration of the transistor is as follows: The first pin is Source, second pin is Gate and the third pin is Drain.
The transistor has many features like low low threshold voltage, high switching speed, low on resistance etc. due to which it can be used wide variety of applications for example as driver for relays, displays, memories, driving other transistors, motor controller etc. It can also be used in variety of power supply applications. Moreover it will also perform well in low voltage and battery operated applications.
The maximum Drain to source voltage of the transistor is -45V, drain current (continuous) is -0.25A or -250mA, gate source voltage is ±20V and maximum power dissipation is 8300mW.
Where We Can Use it & How to Use:
BS250 can be used any variety of general purpose and high speed switching applications and capable to drive load of upto -250mA which is an enough drain current of drive variety of relays, LEDs, Lamps, small motors, transistors etc. furthermore it can also be used at the output to drive load of electronic platforms such as ardino, raspberry pi etc.
Using procedure of MOSFETs are almost same as we wire BJT transistors. However MOSFET are completely different technology from BJT transistors because BJTs are current control devices and MOSFET are voltage control devices.
Applications:
Switching or driving loads under -250mA
Fast Switching Applications
Motor Control Applications
Out Driver of Microcontroller and Electronic Platforms
Various signal amplification
How to Safely Long Run in a Circuit:
Here are the safe operating guidelines for BS250 transistor. The maximum drain current is -250mA therefore do not drive load of more than -200mA. The maximum drain to source voltage is -45V therefore do not drive load of more than 36V. Max gate to source voltage should be under ±20V. The device should not be stored of operated at temperature below -65 °C and above +150 °C.
Datasheet:
To Download the datasheet just copy and paste the below link in your browser.
https://cdn.datasheetspdf.com/pdf-down/B/S/2/BS250_PhilipsSemiconductors.pdf