BS170 Pinout, Equivalent, Specs, Applications
BS170 is a TO-92 package MOSFET, this post describes BS170 pinout, equivalent, specs, applications and other useful information about this transistor.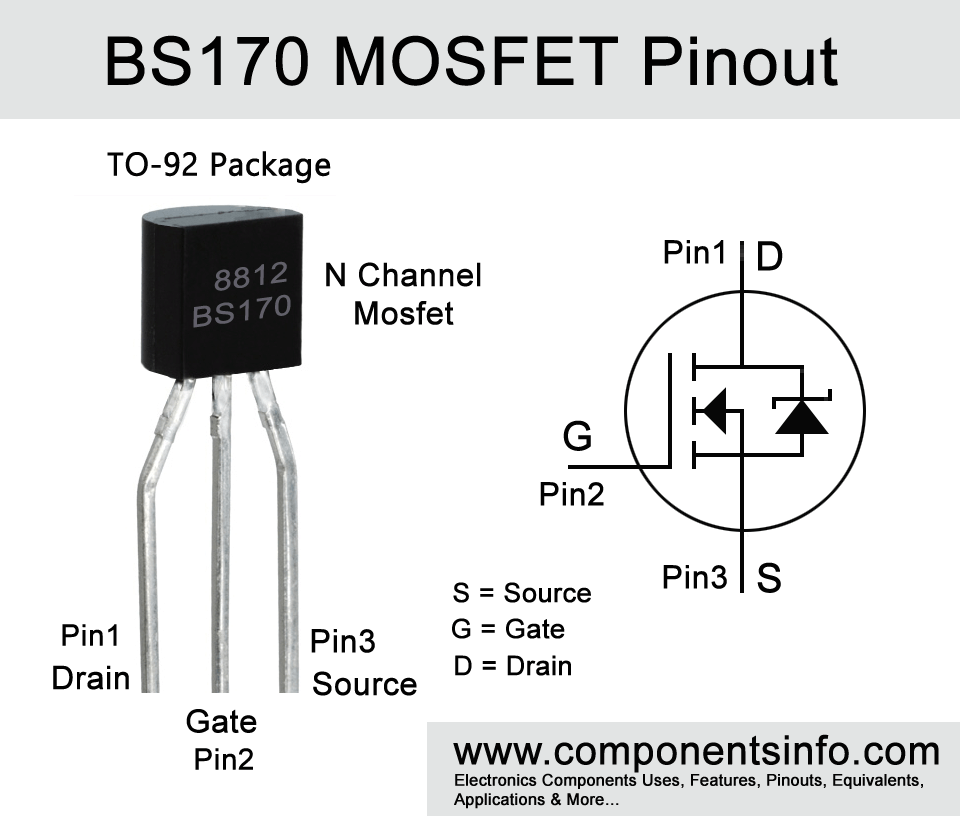 Features / Technical Specifications:
Package Type: TO-92
Transistor Type: N Channel
Max Voltage Applied From Drain to Source: 60V
Max Gate to Source Voltage Should Be: ±20V
Max Continues Drain Current is : 500mA
Max Pulsed Drain Current is: 500mA
Max Power Dissipation is: 830mW
Minimum Voltage Required to Conduct: 0.8V
Max Storage & Operating temperature Should Be: -55 to +150 Celsius
Replacement and Equivalent:
2N7000, 2N7002, IRFZ44 (The pin configurations of the substitute MOSFETs shown here may be different from BS170, therefore it is recommended to check their pin configurations before replacing in your circuit).
BS170 MOSFET Explained / Description:
BS170 is a well-known N channel MOSFET manufactured in TO-92 package. It can be used for both switching and amplification purposes. When used as switch it can drive load of 500mA. It is able to perform fast switching and capable to switch load in around 7 nanoseconds due to which it can be used in high speed circuits. It can also perform well on low voltage due to which it is an ideal MOSFET to use in portable and battery operated applications.
Other than that it can also be used as an amplifier and you can use it in your audio amplifier circuits and also for any general purpose signal amplification requirements.
Where We Can Use it & How to Use:
BS170 can be used for any general purpose switching and amplification purposes, it can be used as a switch to drive loads under 500mA which is enough drain current to drive most of the relays, lamps, LEDs etc. Additionally it can also be used at the output of microcontrollers and platforms like arduino and raspberry pi to drive loads.
On the other hand it can also be used as an audio amplifier, in audio amplifier stages, low level signal amplification etc. Wiring the MOSFETs are almost same as we wire BJT transistors. In MOSFETs the Gate is used to control the transistor where as in BJT it is Base, but the BJTs are current control devices and MOSFETs are voltage control devices. And the gate in MOSFETs requires small amount of voltage to control current through its Drain to Source.
Applications:
Fast Switching
Switching or driving loads under 500mA
Audio Amplification & Pre Amplification
Output of Microcontrollers
Output of ICs
Various type of signal amplification
How to Safely Long Run in a Circuit:
To get long term and stable performance from BS170 MOSFET in your circuits do not drive load of more than 60V and 500mA. The Gate to Source voltage should be under ±20V and do not operate and store the transistor in temperature below -55 Celsius and above +155 Celsius.
Datasheet:
To Download the datasheet just copy and paste the below link in your browser.
https://pdf1.alldatasheet.com/datasheet-pdf/view/16636/PHILIPS/BS170/+0W54JUL.hKpRudGXtEN+/datasheet.pdf