2N7000 MOSFET Pinout, Datasheet, Equivalent
In this post you will find 2N7000 MOSFET pinout, datasheet, equivalent and other useful information about this transistor.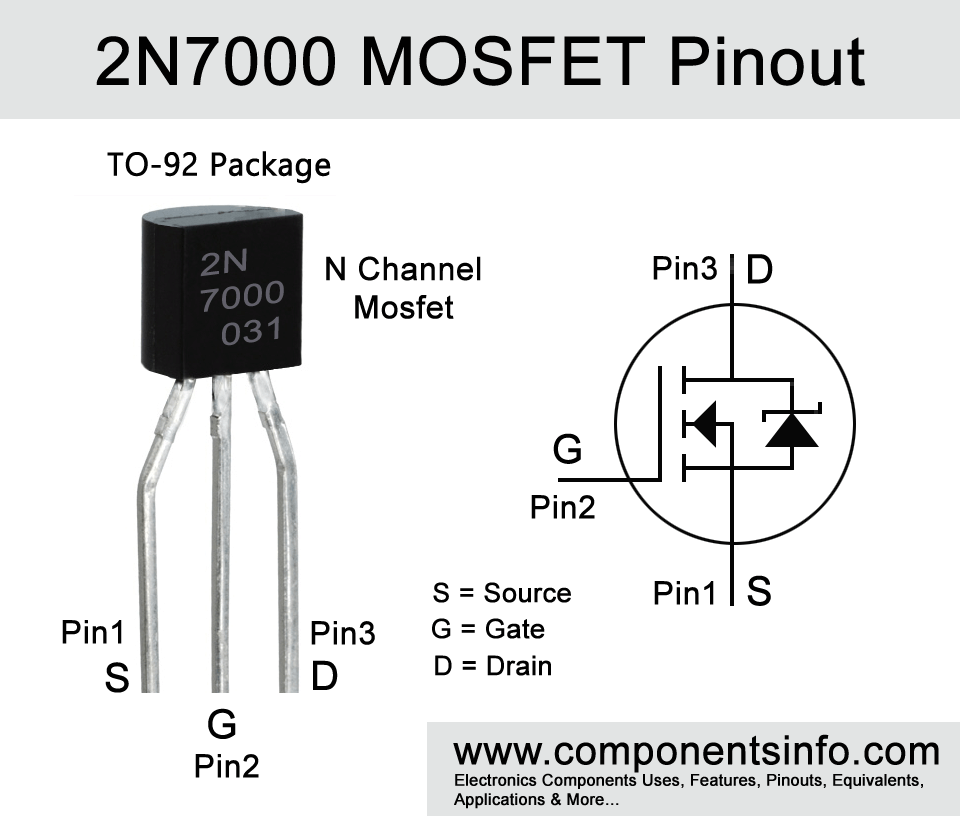 Features / technical specifications
Package Type: TO-92
Transistor Type: N Channel
Max Voltage Applied From Drain to Source: 60V
Max Gate to Source Voltage Should Be: ±20V
Max Continues Drain Current is : 200mA
Max Pulsed Drain Current is: 500mA
Max Power Dissipation is: 400mW
Minimum Voltage Required to Conduct: 8V
Max Storage & Operating temperature Should Be: -55 to +150 Celsius
P Channel Complementary
P Channel Complementary of 2N7000 is BS250.
Replacement and Equivalent
BC170, 2N7002, IRFZ44 (The pin configurations of these transistors may be different from 2N7000, therefore check their pin configurations before replacing in your circuit).
2N7000 MOSFET Explained / Description
2N7000 is a famous N Channel MOSFET comes in TO-92 package. Unlike BJT transistors which are current controlled devices MOSFET are the devices which are controlled by applying voltage on their gate. One of the main feature of MOSFET technology is that this transistor require very less or no input current to control the load due to which MOSFETs are ideal to use as amplifiers. 2N7000 also having all these features due to which it can be used in many general purpose switching applications for example the max continuous drain current is 200mA that is enough to drive LEDs, relays, high power transistors and other components and devices in your electronic circuits which require current under 200mA. Moreover it can also provide good performance when used as an amplifier therefore you can use it for audio and other signal amplification purposes.
How to Use
Using MOSFETs are almost same as we use the BJT transistors. The Gate requires small voltage to control the current through its Drain to Source. In BJTs the Base terminal controls the output of the transistor whereas in MOSFETs the Gate terminal controls the output of the MOSFET. But one important thing should be kept in mind that BJTs conductivity is controlled by input current applied to their base and MOSFETs conductivity is controlled by voltage applied to their Gate.
Applications
Switching or controlling loads under 200mA
Audio Preamplifier
Audio Amplification
Output of ICs
Output of Microcontrollers
Various type of signal amplification
How to Safely Long Run in a Circuit
To get long term performance from 2N7000 MOSFET do not apply voltage more than 60V through drain to source. Do not operate load more than 200mA. The Gate to Source voltage should be under ±20V and always operate and store the transistor in temperature above -55 Celsius and below +155 Celsius.
Datasheet
To Download the datasheet just copy and paste the below link in your browser.
https://www.st.com/resource/en/datasheet/cd00005134.pdf