2SK117 Transistor Pinout, Equivalents, Features, Specs, Applications
In this post we will discuss and explain 2SK117 transistor pinout, equivalents, features, specs, applications and other useful information about this JFET.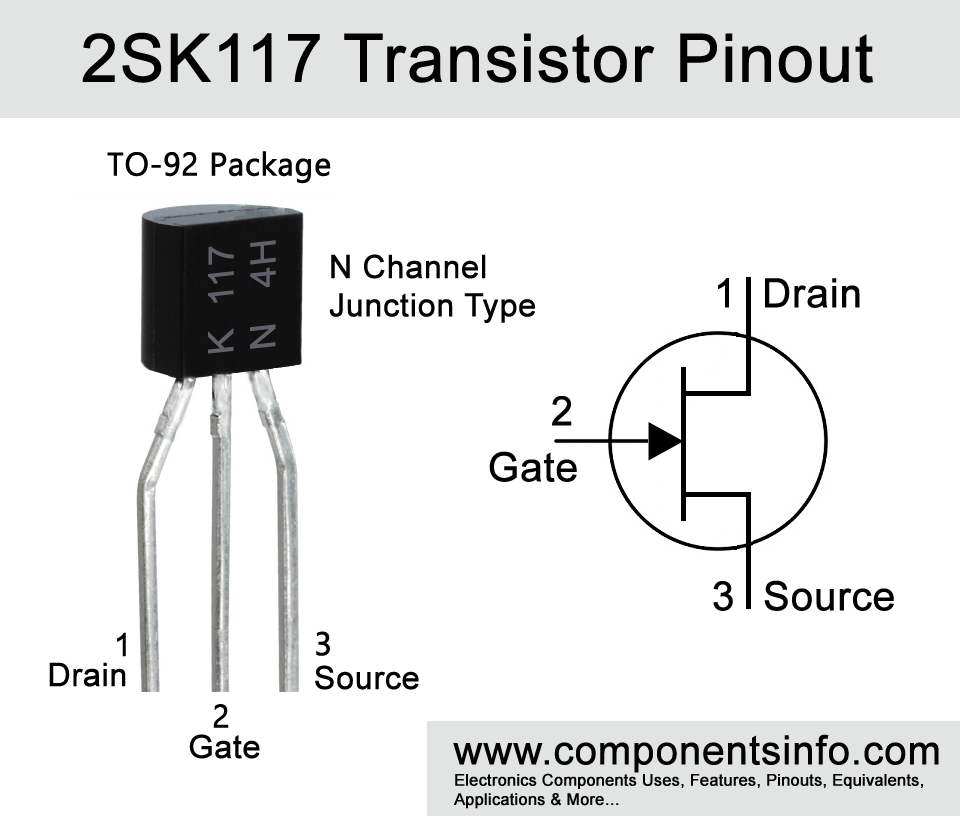 Features / Technical specifications:
Package Type: TO-92
Transistor Type: N Channel
Max Gate To Drain Voltage Should Be: –50V
Max Continues Drain Current is: 14mA Max
Max Gate Current is: 10mA
Minimum to Maximum Gate to Source Cuttoff Voltage : -0.2 to -5V
Max Drain Power Dissipation is: 300mW
Max Storage & Operating temperature Should Be: -55 to +150 Centigrade
Low Noise Upto 10dB Noise Figure
Replacement and Equivalent:
2N5485, 2N5292, J201, 2n5457, BF245, 2SK30A, 2SK209(SOT-23 Package), 2SK223, 2SK163 (It is suggested to always check pin configuration of the transistor you are replacing with the 2SK117.)
2SK117 Transistor Explained / Description:
2SK117 or K117 is a TO-92 package JFET transistor. The device is primarily designed for low noise audio amplifier applications which make it ideal to use in wide variety of different types of audio related applications. The transistor also possesses low noise capabilities and the noise figure ratings are upto 10dB max. This low noise feature makes it ideal to use in applications where noise cancellation is crucial.
Looking at the technical specs of transistor the maximum continuous drain current is 14mA, max gate to drain voltage is -50V, max gate current is 10mA, min to max gate to source cutoff voltage is -0.2V to 1.5V and max drain power dissipation is 300mW.
This transistor comes in different drain current or IDSS classification that can be determined by the alphabet written in the second line. If that alphabet is "Y" then the minimum to maximum drain current will be 1.2 to 3.0mA, If it is "GR" then the min to max drain current will be 2.6 to 6.5mA and if that alphabet will be "BL" then the min to max drain current will be 6 to 14mA.
Where We Can Use it & How to Use:
As we have discussed above that the transistor is primarily designed for low-noise audio amplifier applications due to which it can be used in a wide variety of audio preamplification and audio amplification applications. But other than that it can also be used in a variety of other different low noise signal amplification.
Applications:
Audio preamplifiers
Audio amplifiers
Signal amplification
Safe Operating Guidelines / Absolute Maximum Ratings:
Always use components under their absolute maximum ratings to get good and long-term performance and use them at least 20% below their max ratings. Using this device up to its max ratings for example in high current/voltage/temperature can result in damaging the device or reducing its performance. The transistor comes in three types of drain current so drive loads under each rating. Also, the junction temperature should not exceed 125°C in any condition, and the storage temperature should be between -55°C to +150°C.
Datasheet:
To download the datasheet just copy and paste the below link into your browser.
https://cdn.datasheetspdf.com/pdf-down/2/S/K/2SK117_ToshibaSemiconductor.pdf