2SK1058 MOSFET Pinout, Equivalents, Features, Applications and Other Important Information
2SK1058 is an N channel MOSFET available in TO-3P transistor package. In this post we are going to explore 2SK1058 MOSFET pinout, equivalents, features, applications and other important information.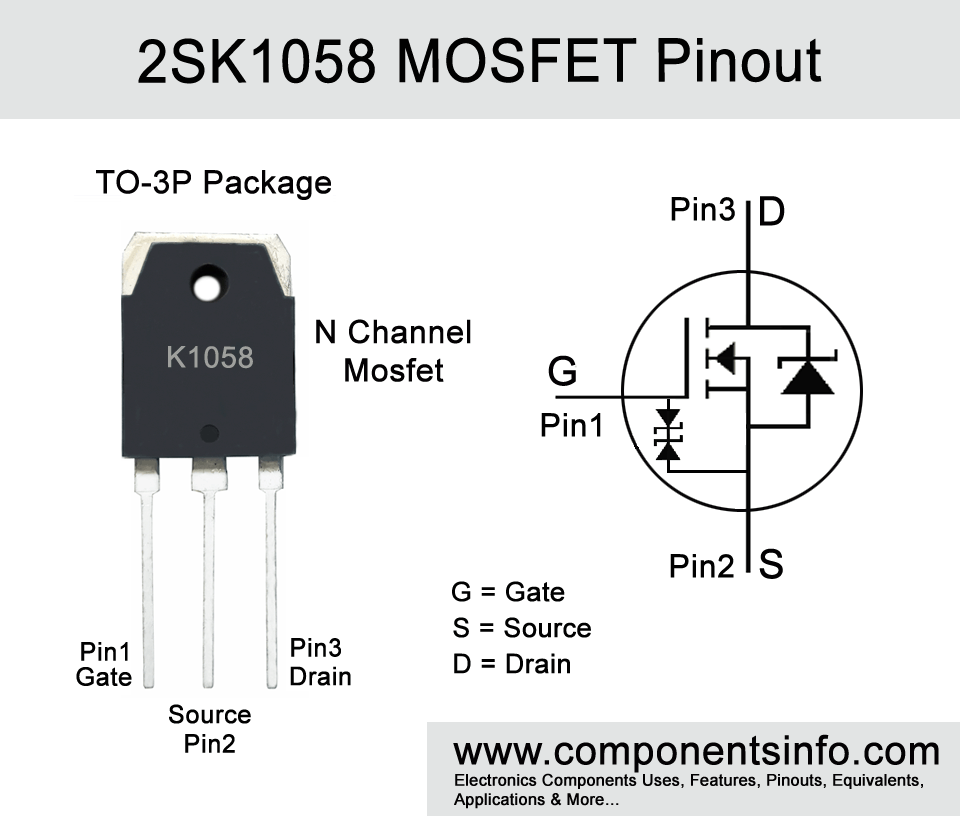 Features / Technical Specifications:
Package Type: TO-3P
Transistor Type: N Channel
Max Voltage Applied From Drain to Source: 160V
Max Gate to Source Voltage Should Be: ±15V
Max Continues Drain Current is : 7A
Switching Speed: Turn on time is 180ns, Turn off time is 60ns
Max Power Dissipation is: 100W
Max Storage & Operating temperature Should Be: -55 to +175 Centigrade
P Channel Complimentary
2SJ162
Replacement and Equivalent:
2SK1386, 2SK1373, 2SK1168, 2SK1162, 2SK1029, 2SK1011, 2SK1012, 2SK1014, 2SK1016
2SK1058 Transistors Explained / Description:
2SK1058 is an N channel MOSFET available in TO-3P package. The MOSFET is designed to use in low frequency power amplifiers which is used to amplify audio signals and many different type of low frequency signals. At the output of these devices we can drive speakers and other loads.
These low frequency amplifiers mostly used in the circuitries of stereos and many different type of sound systems such as microphone amplifier for addressing the public etc. But it is not limited to these uses and can also be used many other applications. For example it has fast switching speed what makes it ideal to use in many types of applications that require fast switching. The transistor has many good features such as:
Wide area of safe operation, Equipped with gate protection diodes, good frequency characteristics, enhancement more, suitable for power audio amps etc.
Looking at the specs of the transistor the maximum drain to source voltage is 160V, max continuous drain current is 7A, switching speed is 180ns turn on time and 60ns turn off time, max storage and operating temperature is -55°C to 150°C and max power dissipation is 100W.
Where We Can Use it & How to Use:
As we have already mentioned above this MOSFET is designed to use low frequency power amplifiers but it is not limited to these uses and can also be used for switching, power supplies and other purposes. The using procedure is same as we use any other MOSFET.
Applications:
Audio Amplifiers
Microphone Amplifiers
Ceiling Speakers
Megaphones
Intercoms
Public Address Systems
Variety of Switching Purposes
Motor Drivers
Safe Operating Guidelines 
To get long term and stable performance in your circuit it is important to consider these safety guidelines:
Do not drive the MOSFET to its absolute maximum ratings and always stay 20% below from these ratings.
The maximum drain to source voltage is 160V, therefore the derived load should be under 128V.
The max continuous drain current s 7A, therefore the drive load should not be exceed 5.6A.
Use a suitable heatsink with the transistor.
And always store or operate the MOSFET at temperatures above -55°C and below 150 °C.
Datasheet:
To Download the datasheet just copy and paste the below link into your browser.
https://z3d9b7u8.stackpathcdn.com/pdf-down/2/S/K/2SK1058_HitachiSemiconductor.pdf