2SJ162 MOSFET Pinout, Equivalent, Applications, Features and Other Useful Details.
2SJ162 is a TO-3P package N channel MOSFET. Today we are going to discuss 2SJ162 MOSFET pinout, equivalent, applications, features and other useful details.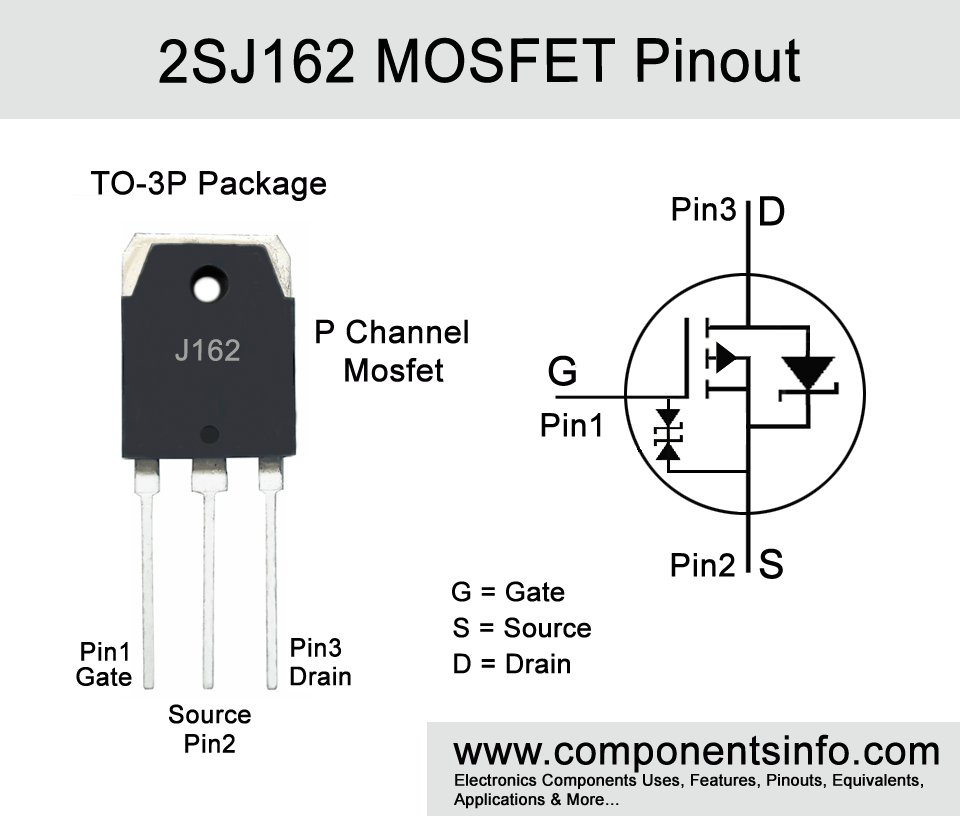 Features / Technical Specifications:
Package Type: TO-3P
Transistor Type: N Channel
Max Voltage Applied From Drain to Source: -160V
Max Gate to Source Voltage Should Be: ±15V
Max Continues Drain Current is : -7A
Switching Speed: Turn on time is 180ns, Turn off time is 60ns
Max Power Dissipation is: 100W
Max Storage & Operating temperature Should Be: -55 to +175 Centigrade
N Channel Complimentary:
2SK1058
Replacement and Equivalent:
EXC10P20, 2SJ618, 2SJ351, 2SJ200, IRFP9240, 2SJ201
2SJ162 Transistors Explained / Description:
2SJ162 is a P channel MOSFET available in TO-3P package. It is complimentary of 2SK1058 transistor which is an N channel transistor with similar electrical characteristics. 2SJ162 is also designed for low frequency power amplifier applications but like its N channel complimentary it can also be used in other applications. The transistor has many good features such as:
High Speed Switching:
The transistor possesses high speed switching qualities which makes ideal for applications where high speed switching is essential.
Enhancement Mode:
It is an enhancement most MOSFET means that we have to apply voltage on their gate to activate them or making them in ON state. The opposite of enhancement more is depletion mode in which the MOSFET is always in ON state and we have to apply voltage to its gate to make them OFF.
Good Frequency Characteristic:
The MOSFET also has good frequency characteristics which means that it will provide quick response when the input signal changes by switching on and off in rapid speed.
Wide Area of Safe Operation:  
Wide area of safe operation means that it has wide range of voltage and current limits which makes it reliable and perform stably in applications.
Equipped with gate protection diodes
The features enhances the safety of the MOSFET more by preventing it from voltage spikes. The gate protection diodes protect the MOSFET by limiting the voltage applied to the gate in occasions of voltage spikes, thus safe MOSFET from internal damaging.
Suitable for audio power amplifier
All the features we have discussed above makes this MOSFET ideal and reliable to use in audio power amplifiers and thus it can provide very good performance in these type of circuits.
Looking at the other specs of the circuit the maximum drain to source voltage is -160V, maximum drain current is -7A, the switching speed of the transistor is 180ns turn time and 60na turn off time, max power dissipation is 100W and the minimum and maximum storage and operating temperature is -55°C to 150°C.
Where We Can Use it & How to Use:
As mentioned above 2SJ162 transistor is designed to use in low frequency power amplifier applications but it is not limited to use in these applications and can also be used in switching, power supplies, motor drivers etc. The using procedure is the same as we use any other MOSFET transistor. But it is important to keep in mind the absolute maximum ratings of the MOSFET and always design your circuits that use the MOSFET atleast 20% below form its absolute maximum ratings.
Applications:
Audio Amplifiers
Megaphones
Intercoms
Ceiling Speakers
Public Address Systems
Microphone Amplifiers
Motor Drivers
Variety of Switching Purposes
Safe Operating Guidelines 
Before using the MOSFET in your applications it is important to keep in mind these safe operating guidelines.
As mentioned above do not drive the MOSFET to its absolute maximum ratings and always stay 20% below from these ratings.
The maximum drain to source voltage is -160V, so by following the 20% rule the driven load should be under 128V.
Same as the continuous drain current of the MOSFET is -7A, therefore the driven load should not be exceed 5.6A.
Always use a suitable heatsink with the MOSFET.
The storage and operating temperatures of the device are -55°C and below 150 °C.
Datasheet:
To Download the datasheet just copy and paste the below link into your browser.
https://z3d9b7u8.stackpathcdn.com/pdf-down/2/S/J/2SJ162_HitachiSemiconductor.pdf