2SB772 Transistor Pinout, Equivalent, Uses, Features
B772 or 2SB772 is a TO-126 package general purpose transistor; in this post you will find 2SB772 transistor pinout, equivalent, uses, features and other useful information about this transistor.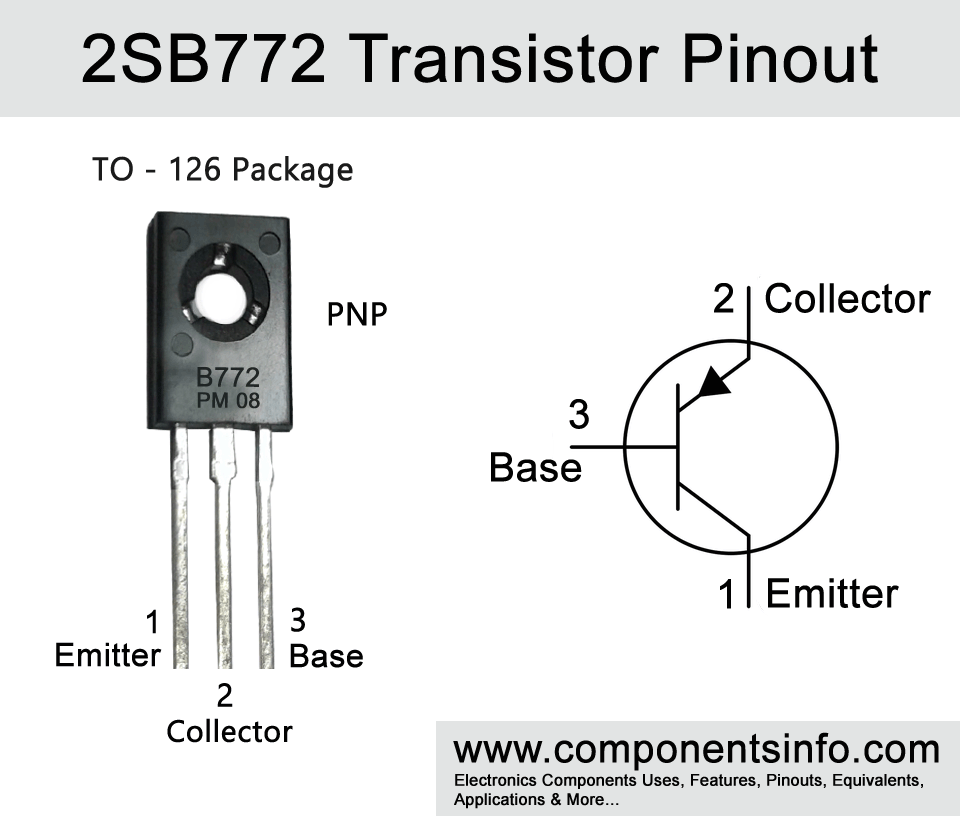 Features / Technical Specifications:
Package Type: TO-126
Transistor Type: NPN
Max Collector Current(IC): –3A
Max Collector-Emitter Voltage (VCE): –30V
Max Collector-Base Voltage (VCB): –40V
Max Emitter-Base Voltage (VEBO): –5V
Max Collector Dissipation (Pc): 10 Watts
Max Transition Frequency (fT): 90 MHz
Minimum & Maximum DC Current Gain (hFE): 60 – 400
Max Storage & Operating temperature Should Be: -55 to +150 Centigrade
Replacement and Equivalent:
MJE172, KSB772, 2N6407, 2SA715, 2SA738, 2N6414, 2N6415, 2SA963 2SB743, 2SB744, 2SB772, BD788, BD816, BD826, BD386, BD386-1, BD386-2, BD386-5, BD386-8, BD388, BD828, BD834, BD836, KSB744, KSB744A, KSB772, MJE170, MJE171, MJE230, MJE231, MJE232, MJE233, MJE234.
2SB772 Transistor Explained / Description:
2SB772 is a TO-126 packaged general purpose PNP transistor that can be used for variety of switching and audio amplification purposes. When used as a switch it can drive load of upto 3A and can be used to drive variety of loads in circuits. Moreover the collector-emitter saturation voltage is only 0.3V which also makes this transistor ideal to use in places where low voltage switching is required.
On the other its 60-400 DC current gain and 10W collector dissipation features makes it ideal to use in variety of audio amplification purposes, it can be used in audio amplifier stages and also perform well as a separate amplifier to drive a speaker.
Where We Can Use it & How to Use:
As described above 2SB772 can be used in variety of applications, it can drive maximum load of 3A or 3000mA due to which it can be used in your circuits to drive variety of loads at a time. Like high power DC motors, LEDs, relays, switches, whole part of a circuit etc. Other than that it can also be used to build a high power audio amplifier and can also be used at the output of radios, bell / chimes, mp3 players to drive a speaker directly.
Applications:
DC to DC Converters
Relay Driver
Audio Amplifier
Audio Amplifier Stages
Switching Loads under 3A
How to Safely Long Run in a Circuit:
To get good and long term performance from 2SB772 always stay atleast 20% below from its max ratings. The maximum collector current of the transistor is 3A therefore do not drive load of more than 2.4A. The maximum collector-emitter voltage is 30V, for safety do not drive load of more than 24V. Use a suitable heatsink with the transistor and always store of operate in temperature between -55 Celsius to +150 Celsius.
Datasheet:
To Download the datasheet just copy and paste the below link in your browser.
https://cdn.datasheetspdf.com/pdf-down/2/S/B/2SB772_NEC.pdf