2N2646 Transistor Pinout, Applications, Equivalents, Features, Usage Guidelines and More
This article contains all the important details about 2N2646 transistor. Such as 2N2646 transistor pinout, applications, equivalents, features, usage guidelines and other useful info.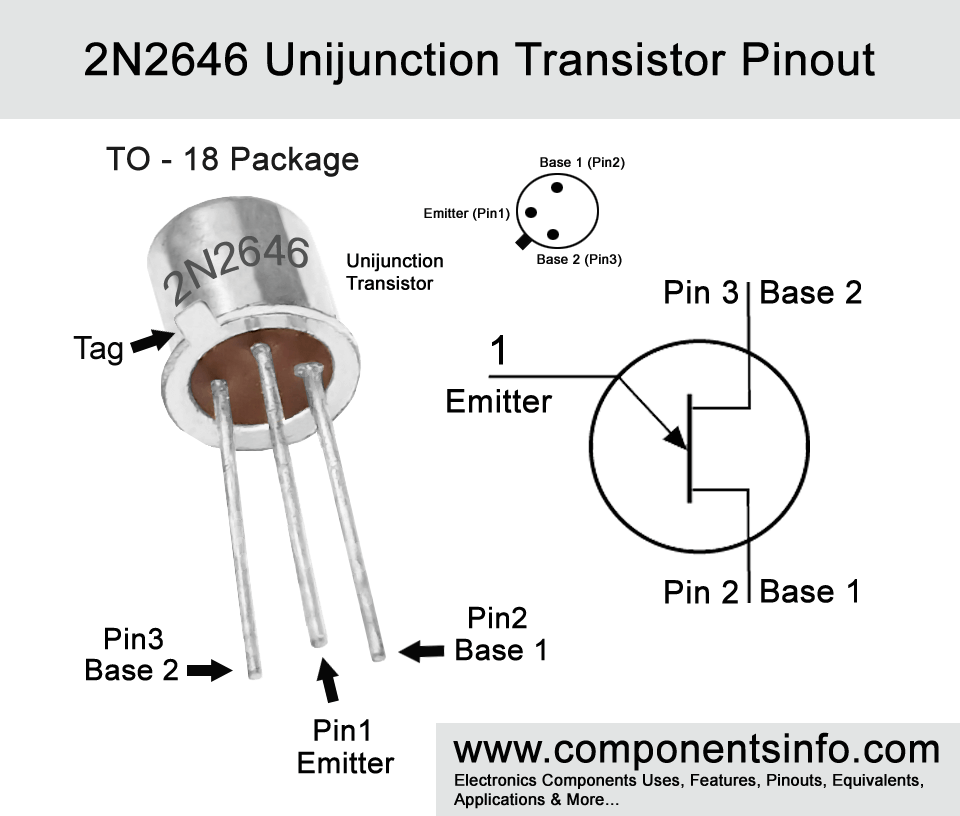 Absolute Maximum Ratings:
Package Type: TO-18
Transistor Type:  Unijunction Transistor
Max RMS Emitter Current(IE(RMS)): 50mA
Max Emitter Reverse Voltage (VB2E): 30V
Max Interbase Voltage (VB2B1): 35V
Max Power Dissipation (PD): 300 miliWatt
Max Storage & Operating temperature Should Be: -65 to +150 Centigrade
Replacement and Equivalent:
2N1671, 2N4870, 2N2647, 2N4871.
2N2646 Transistor Explained / Description:
2N2646 is a metal case transistor available in TO-18 transistor package. It is a unijunction transistor designed to be used in sensing circuits, pulse circuits, timing circuits, and thyristor trigger circuits.
Thyristor Trigger Circuits:
Thyristors are commonly used in electronic circuits for switching and controlling. The UJT transistor can be used to provide the required trigger pulses to control the thyristor in many different applications such as lighting control, power regulation, motor control etc.
Sensing Circuits:
Sensing circuits are circuits made to continuously monitor the changes in physical things or in the environment. These sensing circuits use sensors for specific requirements and when a change is detected by these sensors they convert it into an electrical signal which is further processed by the circuits. For example, automatic lights that switch ON when it is dark, pressure monitors, temperature detectors and temperature switches that control things according to the preset temperature, etc.
Pulse and Timing Circuits:
These types of circuits are used to generate electrical pulses and also to control things according to preset timings.
The transistor has many features some of the main features are as follows:
Low Peak Point Current: 5μA (Maximum)
This current refers to the flowing of current through peak point emitter. This type of feature is advantageous for timing circuits or in circuits where accurate timing is essential. This feature also makes the transistor consume less power hence making it power efficient.
 Low Emitter Reverse Current: 0.005μA (Typical)
This feature ensures the stability of the device and off state in non-active state. A transistor with this feature is also ideal for applications such as low power loss, sensing circuits, low leakage, etc.
 Passivated Surface for Reliability & Uniformity
The passivated surface means that it is manufactured with a passivation layer coated on the surface of the transistor which protects it from external environmental effects for example moisture and makes it reliable and long-term performer. So it makes the transistor ideal to use in conditions where the environment is challenging.
Where We Can Use it & How to Use:
As mentioned above this transistor can be used in a variety of pulse and timing circuits, different types of sensing circuits, and thyristor trigger circuits. The detailed list of its applications can be found under the applications heading below.
To use this transistor first of all check the pin configuration and understand which pin is Emitter, Base1 and Base2.  Then connect the Emitter pin with the input signal, connect Base2 with the positive supply and Base1 with the load the other side of the load should be connected to the ground. You have to choose the resistors between positive supply and Base2 and between negative supply and Base1 according to the circuit requirements.
Applications:
Proximity Sensors
Oscillators
Relaxation Oscillators
Audio Signal Generators
Liquid Level Sensors
Signal Generators
Frequency Dividers
Temperature Sensors
Phase Locked Loops
Speed controllers
Safe Operating Guidelines:
Follow these safe operating guidelines to ensure proper use of the transistor and increase its performance and reliability in the circuit. The absolute maximum ratings are the max limits of the transistor so staying at least 20% below ensure good performance and also increase the lifespan of the transistor.
The max power dissipation is 300mW therefore to avoid overheating stay below this limit and make sure to use a proper heasink.
The max RMS Emitter Current is 50mA so to stay safe do not go above 40mA.
The Peak Pulse Emitter Current is 2A so make sure to stay under 1.6A.
The max emitter reverse voltage is 30V therefore stay under 24V.
The max Interbase Voltage is 35V so stay below 28V.
The operating temperature should be between -65°C to 125°C
And the storage temperature should be between -65°C to 150°C
.
Datasheet:
To download the datasheet just copy and paste the below link in your browser.
https://z3d9b7u8.stackpathcdn.com/pdf-down/2/N/2/2N2646_PhilipsSemiconductors.pdf