2N1308 Transistor Pinout, Applications, Equivalents and Other Details
2N1308 is a germanium alloy-junction transistor, it was designed to use in old computers and switching applications. In this post we are going to discuss 2N1308 transistor pinout, applications, equivalents and other details.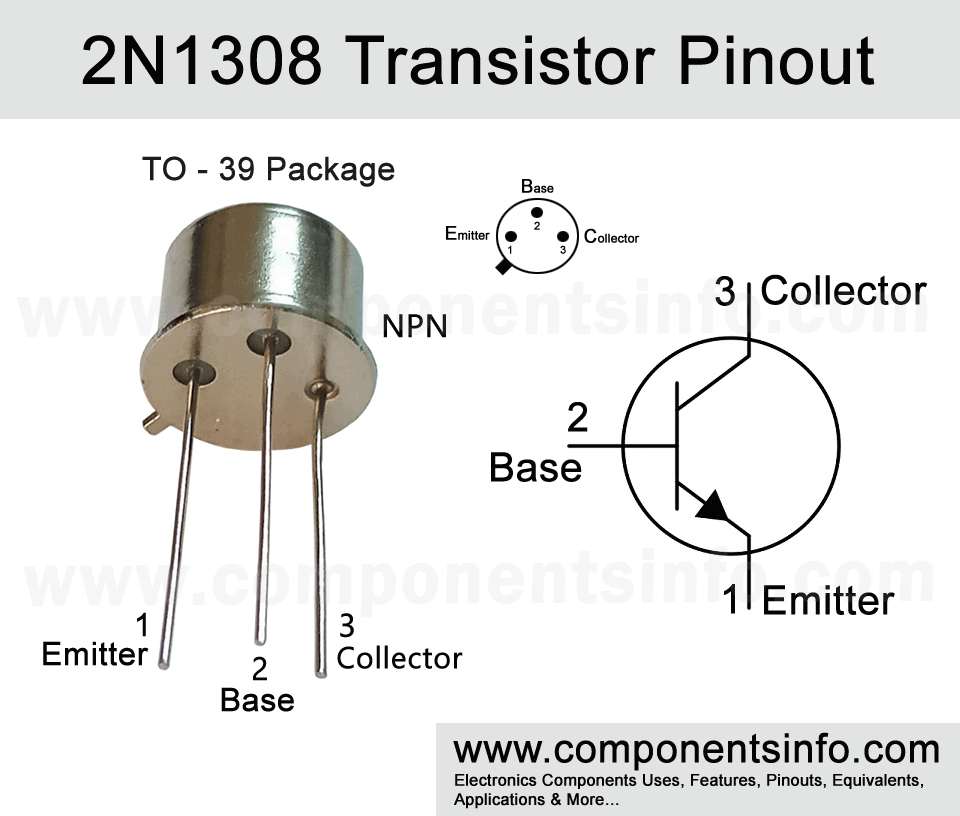 Absolute Maximum Ratings:
Package Type: TO-39
Transistor Type: NPN Germanium
Max Collector Current(IC): 300mA
Max Collector-Base Voltage (VCBO): 25V
Max Emitter-Base Voltage (VEBO): 25V
Total Power Dissipation (PD): 150mW
Max Transition Frequency (fT): 60 MHz
Minimum & Maximum DC Current Gain (hFE): 20 to 200
Max Storage, Operating & Junction temperature range: -65 °C to +200 °C
Replacement and Equivalent:
2N1302, 2N1304, 2N1306, NTE101
2N1308 Transistor Explained / Description:
2N1308 is an NPN transistor available in TO-39 metal case transistor package. It is the transistor of 2N130x series which also contains other transistors such as 2N1302, 2N1304 and 2N1306. These are germanium alloy-junction transistors which means in the making process of these transistors the manufacturer used these material. But it is an old technology used mostly in 1950s to 1960s and was popular in those days, and till 1970s 1980s the use of these transistors are completely stopped by the electronic manufacturers because the technology is shifted to silicon transistors which offers more reliability and robustness due to their better overall efficiency.
But some hobbyist still use these transistor for building guitar pedals and some also require it to replace the faulty guitar pedals devices.
Now looking at the maximum ratings of the transistor the emitter to base voltage is 25V, collector to base voltage is also 25V, collector current is 300mA, power dissipation is 150mW, storage temperature is from -65 to +100°C and operating junction temperature is -65°C to +85°C.
Where We Can Use it & How to Use:
As mentioned above these transistors are not used now a days and silicon transistors are took their place but still some hobbyists and guitarists use these transistors to make different projects. So if you have few of these then you can still use them for amplification, switching, guitar effects purposes. For using the transistor first of all check its pin configurations then collect the base to the input signal through a resistor, connect is emitter to the negative of the circuit and connect the collector to the load and other side of the load should be connected with the positive supply of the circuit.
Applications:
Switching and Driving Loads
Old Computers
Radio and RF Applications
Oscillator Circuits
Audio amplifier and other audio related applications
Any general purpose applications that falls under its ratings
How to Safely Long Run in a Circuit:
Here are some safe operating guidelines to use the transistor.
Always stay below from its absolute maximum ratings.
The maximum collector to base voltage should be under 25V.
The maximum emitter to base voltage should be under 25V.
The max collector current is 300mA therefore do not drive load of more than 240mA.
Max power dissipation should be under 150mW.
Always use a heatsink with the transistor.
Max operating temperature should be from -65°C and below +85 °C.
Max storage temperature should be from -65°C and below +100 °C.
Datasheet:
To download the datasheet just copy and paste the below link in your browser.
https://z3d9b7u8.stackpathcdn.com/pdf-down/2/N/1/2N1302_CentralSemiconductor.pdf