TIP36C Transistor Pinout, Explanation, Features, Technical Specs, Equivalents, Applications
Today we are going to discuss about Tip36C transistor. It is a high power transistor available in TO-218 and TO-247 packages. In this post you will find TIP36C transistor pinout, explanation, features, technical specs, equivalents, applications and other info.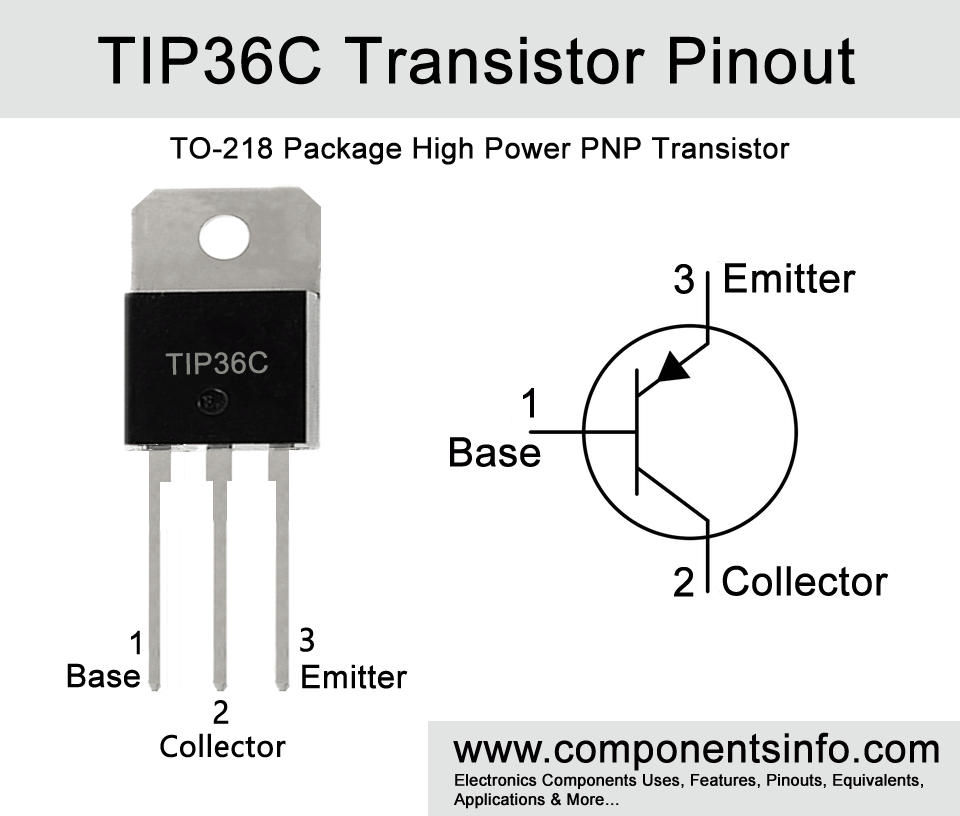 Features / Technical Specifications:
Package Type: TO-218 & TO-247
Transistor Type: PNP
Max Collector Current(IC): -25A
Max Peak Collector Current(ICM): -40A
Max Collector-Emitter Voltage (VCE): -100V
Max Collector-Base Voltage (VCB): -100V
Max Emitter-Base Voltage (VBE): 5V
Max Collector Dissipation (Pc): 125W
Max Transition Frequency (fT): 3 MHz
Minimum & Maximum DC Current Gain (hFE): 25 to 50
Max Storage, Operating & Junction temperature range: -65 to +150 Centigrade
NPN Complementary:
NPN Complementary of TIP36C is TIP35C
Replacement and Equivalent:
TIP36B, 2SB686, BD250C, BD546C, BD746C, BUX48A
TIP35C Transistor Explained / Description:
TIP36C is a good high power PNP transistor available in TO-218 and TO-247 packages. The transistor is designed for general purpose applications and can be used in variety of general switching and amplification applications.
The maximum collector current of the transistor is -25A which is quite enough for driving variety of high current loads such as motors, high power LEDs, Bulbs, high power relays, part of a circuit and variety of devices. Moreover the maximum collector to emitter voltage is upto -100V which is an another plus point, with this high voltage capability you can easily drive loads under 100V. Other than that the transistor is also a good amplifier and can be used to build high power audio amplifier or it can also be used in pair with the TIP35C in audio amplifier circuits.
The specs of the transistor are also quite acceptable, as mentioned above the maximum collector current is -25A and max collector to emitter voltage is -100V. The max peak collector current is upto -40A, max transition frequency is 3MHz, max DC current gain is 50 and total power dissipation is upto 125 watts.
The TIP36C is also available in other versions with lower collector-to-emitter voltage capabilities. Such as the TIP35 that has a maximum collector-to-emitter voltage or (VCEO) of -40V, the TIP36A version has a VCEO of -60V and the TIP36B version has a VCEO of -80V. Other than that there is not much difference between them and they can be used interchangeably if your load falls under their collector-to-emitter or VCEO classification. For example, if you are using a TIP36 that has VCEO of -40V and you are driving a load that requires around 30V, then there is no need to use the high voltage version (TIP36C), and the TIP36 will work fine.
Where We Can Use it & How to Use:
As discussed this is a general purpose transistor with good features and specs so the possibilities are wide. There are a lot of applications in which you can use this transistor some of which we are mentioning here which are solar, battery charging, power supplies, automotive, amplifiers etc. The more narrow down list is mentioned below under applications heading.
Applications:
Different Types of Motors Driving
Solar Chargers
UPS
Battery Chargers
Battery Power Banks
Driving LEDs and Lamps
Driving any load under 25A.
Safe Operating Guidelines / Absolute Maximum Ratings:
Follow these safe operating guidelines for better performance. To get the best and long term performance with any transistor or component it is recommended not to drive it to its absolute maximum rating. Operating any component at its maximum rating may result in damage to the component or reduced performance and shorten its life span. It is therefore suggested to use the component at least 20% below its absolute maximum rating.
The max collector current is -25A therefore do not drive load of more than -20A.
The maximum collector to emitter voltage is -100V so do not drive load of more than 80V.
Use a suitable heatsink with the transistor.
And always store or operate it at temperatures above -65°C and below +150 °C.
Datasheet:
To Download the datasheet just copy and paste the below link in your browser.
https://cdn.datasheetspdf.com/pdf-down/T/I/P/TIP36C_ONSemiconductor.pdf