IRF3710 Transistor Pinout, Equivalent, Specs, Applications and Other Info
IRF3710 is an N Channel MOSFET device with good specs and features. In this post we are going to discuss IRF3710 transistor pinout, equivalent, specs, applications and also discus about how and where to use this transistor.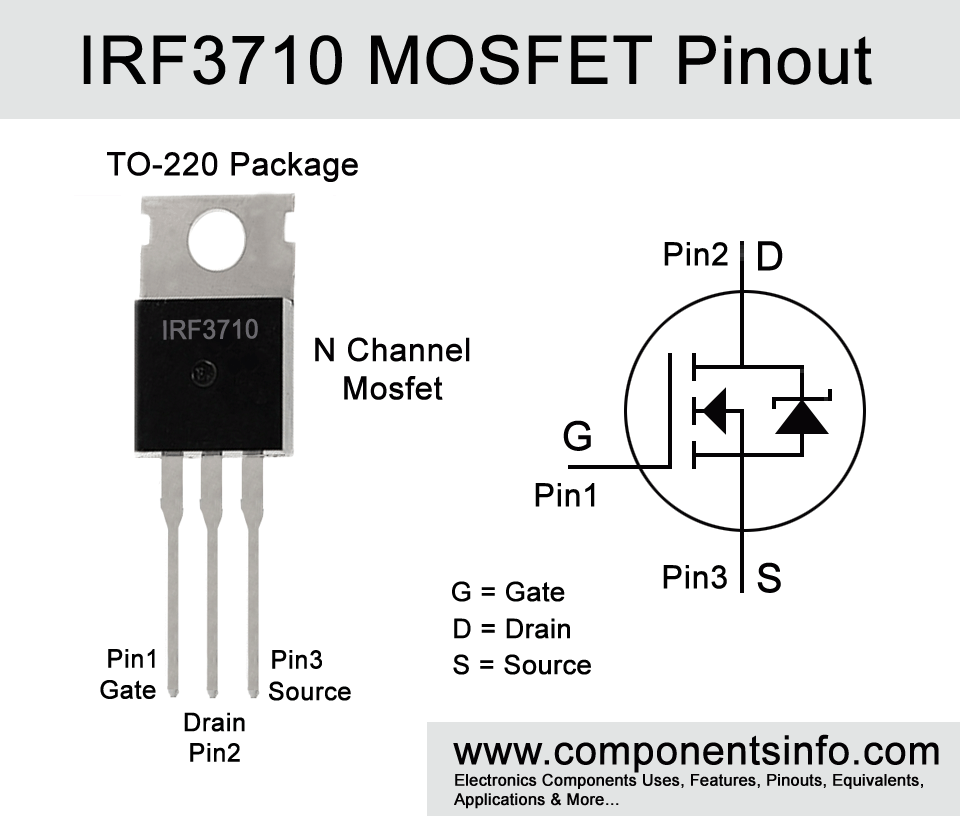 Features / Technical Specifications:
Package Type: TO-220
Transistor Type: N Channel
Max Voltage Applied From Drain to Source: 100V
Max Gate to Source Voltage Should Be: ±20V
Max Continues Drain Current is : 57A
Max Pulsed Drain Current is: 230A
Max Power Dissipation is: 200W
Max Drain to Source Resistance in ON State (RDS on): 23mΩ
Max Storage & Operating temperature Should Be: -55 to +150 Centigrade
Replacement and Equivalent:
IRF4410A, IRFB4115, IRFB4127, IRFB4321, IRFB4710, IRLB4030, IRFB4710, IRFB4127, IRFB4110.
IRF3710 Transistor Explained / Description:
IRF3710 is another reliable MOSFET build to use in industrial applications. It is a low cost device and available in TO-220 transistor package. It is a quite ruggedized transistor with good specifications and features which makes it ideal to use in wide variety commercial and industrial applications.
Some features of the transistor are as follow:
Max Operating Temperature is Upto 175°C
The maximum operating temperature of 175°C makes this transistor ideal to use in applications where the designer require a transistor which can be able to perform on high temperature.
Ultra Low RDS-On Resistance:
The ultra low ON resistance or RDS-On feature means that the transistor will generate less heat when it is in active state when the load is connected to it.
High Switching Speed:
Another feature of this transistor is fast switching speed which makes this transistor an ideal device to use in many switching applications which require high speed switching.
Fully Avalanche Rated
The fully avalanche rated feature makes it capable to withstand and perform stable when its drain to source voltage rises above its max limits.
As looking at MOSFET's ratings the maximum continuous drain to source voltage is 100V, the maximum continuous drain current is 57A, max pulsed drain current is 230A and total device dissipation is 200 Watts.
Where We Can Use it & How to Use:
IRF3710 is primarily designed for switch mode supplies, power factor correction to make power efficient electronic circuits but it is not limited to these uses and can be used in wide variety of other electronic circuits and applications that falls under its ratings.
Applications:
Power Supplies
UPS
Motor Driver Applications
DC to DC converters
Solar Chargers and Power Supplies
Other Battery Charger Circuits
Battery Management Systems Circuits
Inverter Circuits
Safe Operating Guidelines / Absolute Maximum Ratings:
To achieve long term and stable performance with IRF3710 MOSFET the user should follow the instructions below. First of all, it is very important that no transistor be used up to its maximum or absolute maximum rating and the same applies to this MOSFET. For better and safer long-term performance, use the transistor 20% below its maximum rating, as the maximum constant drain current is 57A, so do not run a load of more than 45.6A through this transistor. The maximum drain to source voltage is 100V so do not run the load above 80V. Use a suitable heat sink with transistor and always store or operate the device at temperatures above -55 ° C and below +170 ° C.
Datasheet:
To Download the datasheet just copy and paste the below link in your browser.
https://cdn.datasheetspdf.com/pdf-down/I/R/F/IRF3710-InchangeSemiconductor.pdf