2N2102 Transistor Pinout, Features, Applications, Equivalents, and Other Details
2N2102 is an NPN medium-power silicon transistor in a TO-39 package. The transistor is designed to be used in small signal and medium power type applications and is also quite reliable to use in different equipment. In this article, I am going to explain the 2N2102 transistor pinout, features, applications, equivalents, and other detailed information about this transistor.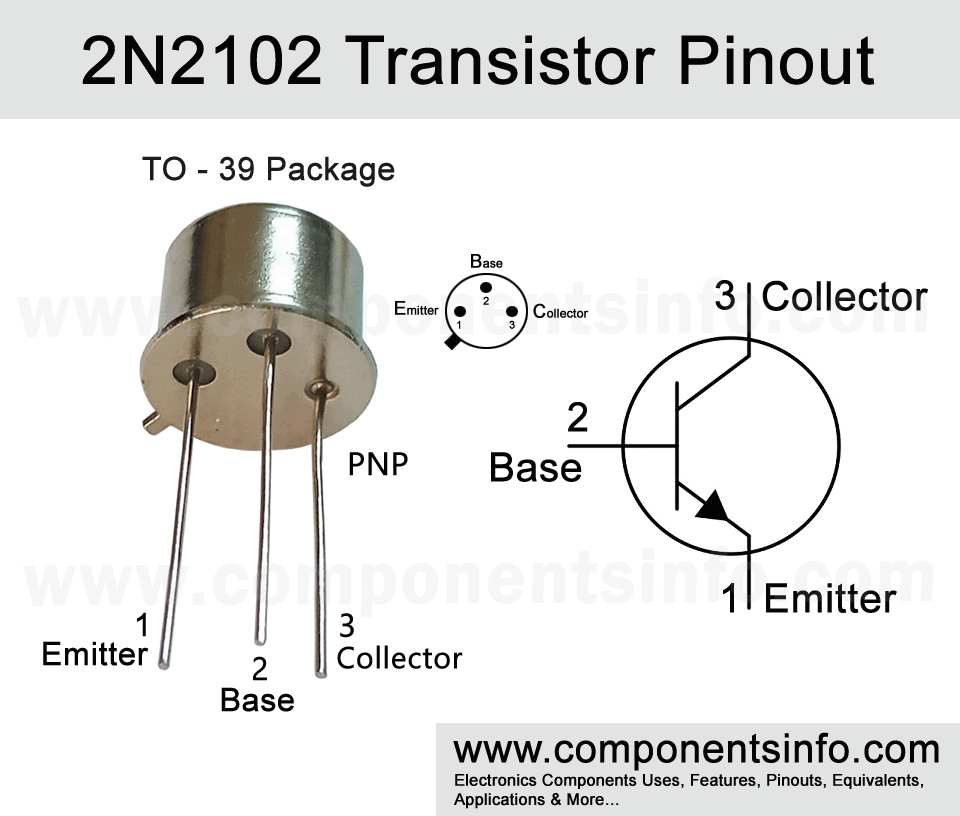 Max Ratings & Technical Specifications:
Package Type: TO-39
Transistor Type: NPN
Max Collector Current(IC): 1A
Max Collector-Emitter Voltage (VCEO): 120V
Max Collector-Base Voltage (VCBO): 120V
Max Emitter-Base Voltage (VEBO): 5V
Max Power Dissipation (PD): 1W
Max Transition Frequency (fT): 60 MHz
Minimum & Maximum DC Current Gain (hFE): 10 to 120
Max Storage, Operating & Junction temperature range: -65 °C to +200 °C
Replacement and Equivalent:
2SA510, 40366, 2N5322, BLX10, 2N4236
2N2102 Transistor Explained / Description:
2N2102 is an NPN silicon transistor available in TO-39 metal case package. This transistor is designed to use in general switching and amplification applications and the type of applications are small signal and medium power.
The small signal applications mean that the application of low amplitude signals such as mixing, filtering, modulation, oscillation, signal processing, amplification etc. While the medium power applications are the applications require more electrical power than the small signal applications. Some examples of these applications are motor control applications, industrial automation, e-vehicles, robotics projects, power supplies, etc.
Now looking at the max rating and electrical characteristics of the transistor. The maximum collector-emitter voltage is 120V, max collector-base voltage is 120V, max collector current is 1A, max emitter-base voltage is 5V and max power dissipation is 1W.
It is important to note that the max ratings are the last survival limits of the transistor going further from these can damage it or weaken the performance of the transistor in seconds. So it is important to stay below from these ratings because these are the maximum limits of the transistor and it doesn't mean that we can use the transistor on these limits all the time. A good practice to use a transistor safely is the stay at least 20% below from these ratings.
Where We Can Use it & How to Use:
As mentioned above 2N2102 can be used in a wide variety of general purpose switching and amplifications. The application types are small signal and medium power, some examples of small signal applications are oscillators, amplifiers, signal processing, etc. Some examples of medium power applications are power supplies, motor control, power amplifiers, etc.
Applications:
General purpose amplifiers
Oscillator Circuits
Audio amplifier and other audio related applications
Radio and RF Applications
Switching and Driving Loads
Signal Conditioning Circuits
LED Driver Circuits
Any general purpose applications that falls under its ratings
How to Safely Long Run in a Circuit:
Here are the important safe operating guidelines that must be followed when using this transistor.
Do not go above the absolute max ratings and stay at least 20% below.
The max collector current is 1A, so the derived load should be under 0.8A.
The maximum collector to emitter voltage is 120V so the derived load voltage should not be more than 96V.
Max power dissipation should be under 1W.
A suitable heatsink is essential to use.
Always store and operate the transistor at temperatures above -65°C and below +200 °C.
.
Datasheet:
To download the datasheet just copy and paste the below link in your browser.
https://z3d9b7u8.stackpathcdn.com/pdf-down/2/N/2/2N2102-NTE.pdf